The average person produces 4.3 pounds of waste per day, according to the Duke University Center for Sustainability & Commerce. NMU has a student population of 8,303 students as of 2016. That's over 35,000 pounds of waste produced by the university per day.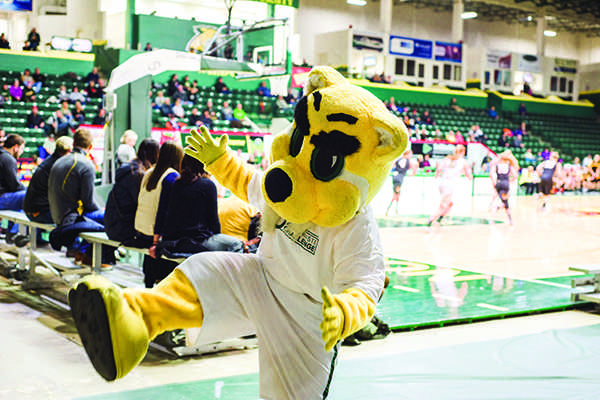 The NMU Sustainability Advisory Council in partnership with Marquette County Solid Waste Management Authority hosted the first Zero Waste Challenge on Monday, Jan. 30 during the NMU women's and men's basketball games against Michigan Tech.
The goal of the event was to challenge game attendees to sort their trash into compost, recycling or waste bins to reduce the overall amount of waste produced at a sports event.
A total of 80 pounds of waste was produced at Monday's game, but only five pounds went to the landfill. That's roughly 94 percent diverted from the landfill with 75 percent being composted, 19 percent recycled and six percent landfilled, according to Stephanie Raboin, a sustainability advisory council member.
Story continues below advertisement
"I think it challenges the community members and students who are there as well to think about what can I sort? What do I create that's waste? Can I be composting? What could I be doing more on my own?" Raboin said. "Every person every piece adds to that. So this event is really our platform to connect with the campus and the community."
The council's goal is to evaluate the university's current sustainability status and see how new efforts and initiatives can become more of Northern's mission.
There were seven recycling spots for game attendees to sort their waste. These recycling bins came from cam- pus areas where they are already implemented such as Jamrich. Northern is looking into getting more of these bins around campus, Raboin said.
"Being able to have those sorting stations and have people know and be comfortable with how to sort their things properly, they just have a little bit more awareness and you are enabling them to follow it," she said.
By facilitating this event, the council hopes to bring awareness and make people more comfortable with the small efforts they can make to become more sustainable.
"It can open your eyes to what more you can do elsewhere and people can take that inspiration home and have that apply to their lives," Raboin said.
Wildcat Willy sported a Zero Waste Challenge T-shirt as did close to 50 students and council volunteers at the event.
"It's an area where students were really asking and pushing and I think that's great that students are able to push and help support the university in making the efforts to be aware," Raboin said. "I think there is more that students can do than they even realize. It's being aware of your water consumption, being aware of your food waste, being aware of the electricity you're using and all those things you have control over."
Sarah Babcock, sophomore outdoor recreation leadership and management major helped those attending the games sort their waste into the proper recycling bins while conversing about simple improvements on campus and at home to live more sustainably.
"Educating promotes the longevity of our planet so you don't hurt it and sustain it for future generations," Babcock said.