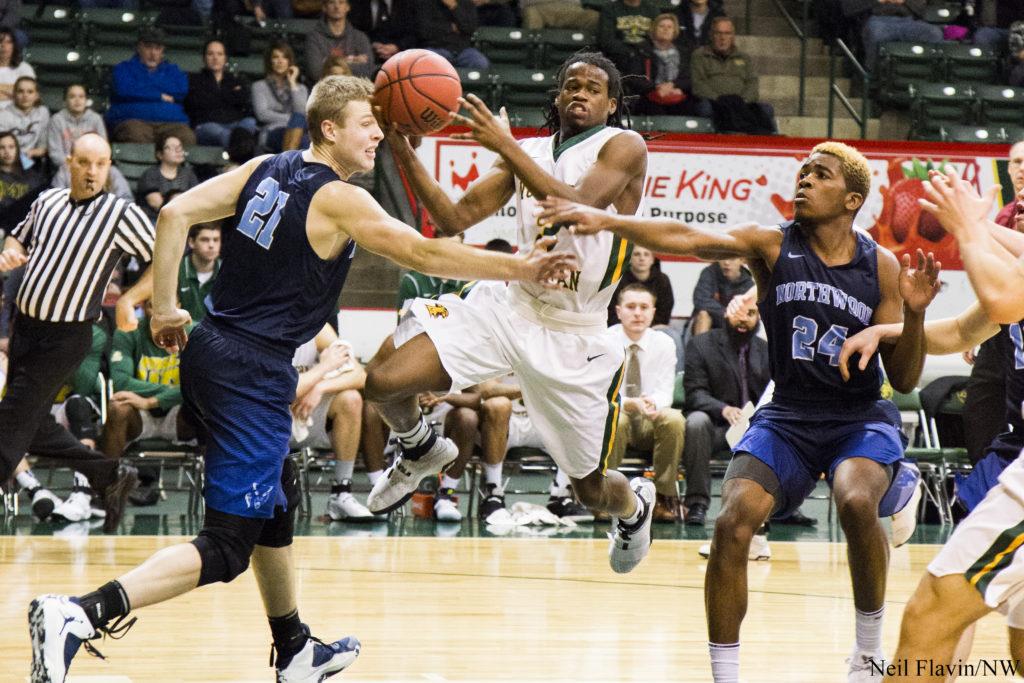 The Northern Michigan University Men's Basketball team went on the road over the weekend to take on the Lake Superior State University Lakers and the Northwood University Timberwolves, hoping to snap a 3-game losing streak.
Despite a 69-67 loss against LSSU, the men's team regrouped and earned themselves a 79-62 victory against Northwood.
Head coach Bill Sall said he was very pleased with the effort and mentality going on the road despite splitting both road games.
"We came to LSSU and played one of the more better games all year," Sall said. Freshman guard Rod Johnson said that the LSSU game was a tough loss.
"We had to put the [LSSU] game behind us and carry on," Johnson said.
Despite playing one senior, forward Brett Branstrom, on the team, Sall said the leadership extends to the rest of the team.
"I think as a team, we are wanting to get better," Sall said. "From where we [were] in December to now, we have improved dramatically."
In Thursday night's game, the Wildcats held the Lakers steadily throughout the game, leading by as much as eight points at halftime.
As the Lakers started to come back, the Wildcats wouldn't give in as sophomore guard Naba Echols made two free throws to shred their trail to four. Laker's Josh Goldschmidt would be fouled by NMU, and then he made two free throws with 27 seconds left; setting up Echols for a 3-point play to tie the game at 67. Laker guard Akaemji Williams  made the final lay-up with 1.3 seconds remaining to solidify the win for LSSU.
Saturday's game against Northwood, the Wildcats finally snapped their 4-game losing streak. Echols had a perfect 3 for 3 as NMU went into halftime leading 41-26 over Northwood.
"Once we hit those three 3's, we weren't looking back," Sall said. "We are a resilient bunch, that's our biggest thing for us."
The 'Cats momentum continued in the second half. The Wildcats went on a 13-2 run and they never looked back, despite a surge by the Timberwolves that cut the Wildcats' lead to the single digits.
However, it was not enough to put the game away.
Isaiah Johnson led the game in scoring with 22 points and Echols would finish with 16 points.
Johnson believes that the win can help the team's confidence and play in the final games of the year.
"We have the ability to keep rolling, like help roll to the next two home games," Johnson said. "That way we can play as a team, move the ball, keep the game fast-paced."
NMU returns home this week for the final homestand of the season.
They will play Saginaw Valley State at 8 p.m. on Thursday and at 1 p.m. on Saturday against Wayne State. Saturday's game brings Senior Day when the team will honor seniors, Branstrom and forward Marcus Hall.
"Is it emotional? Yes, to a point," Sall said. "We just have to go out and win on a couple big road trips up ahead to the season."