Solidarity with Jud Sojourn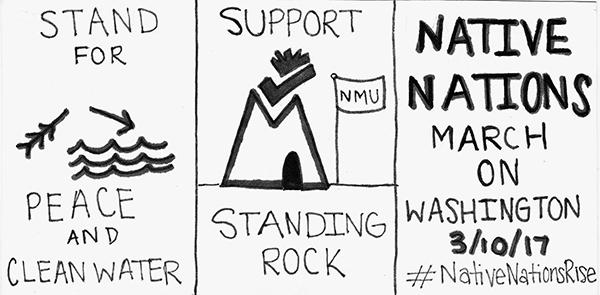 Just days before the ordered evacuation of some of the DAPL resistance camps, protesters from across the country joined together in song and prayer.
Among these water protectors was Jud Sojourn, NMU's very own assistant professor of Native American studies. Sojourn was one of the many arrested for obstruction of a federal function.
Attending school at the only university in Michigan that offers a Native American studies program, we feel for the people and professors at Standing Rock. Our hearts ache to see water protectors, shivering in the winter cold of North Dakota, being arrested for standing up for what's truly right and honorable.
We remember the celebration that took place when we thought the threat of the DAPL was over and gone. To think that one executive order on a signed piece of paper could make meaningless the efforts of thousands of people fighting to protect sacred land and water is terrifying.
Those who remained at Standing Rock for so long are inspiring, providing us with beacons of determination to keep fighting for what's right, and to keep fighting for the world we want to live in. The fact that these protestors were forced out of public land by the government serves as a reminder of the political climate we currently live in.
Sojourn is a passionate professor and cares deeply about the issues he teaches on. Those who talk to him or know him personally describe him to be one of the most gentle and kind people they've ever met. He must be commended for standing up for others and protecting what he believes in, all while putting himself at risk by doing so.
We cannot allow these types of people to be silenced.
The DAPL issues are more than protestors being arrested: is about a lack of respect and moral sensibility for Native culture, it is about pollution and disrespect of sacred land, it is about putting a price tag and profit above the rights of human beings.
Our country is at a pivotal, shifting time. We absolutely cannot forget that it is important to stand up for others and what we believe in.
We stand in solidarity with Jud Sojourn and all those who fought to protect Standing Rock.