Campus ministry group plans relief for Harvey, Irma victims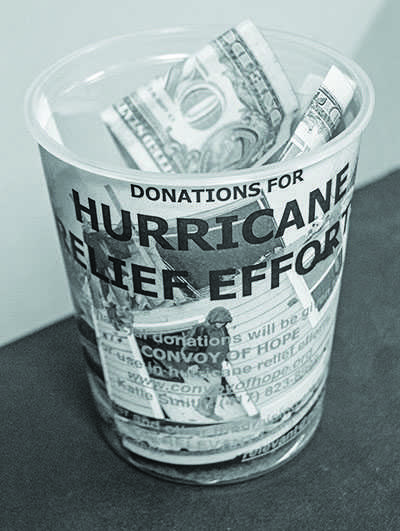 A campus ministry group is coming together in an effort to raise funds to support areas of Texas and Florida affected by Hurricanes Harvey and Irma by hosting a silent auction and benefit concert from 6 to 10 p.m. on Saturday, Oct. 7 in the Great Lakes Rooms of the University Center.
RELEVANT, an organization within the Mission Covenant Campus Ministry will bring local bluegrass band Chasin' Steele to perform at their benefit concert and silent auction. The event is free but donations are suggested at the door. Half of all proceeds made at the event will be donated to Convoy of Hope—a faith-based humanitarian organization which responds to needs of the impoverished. This organization gives 98 percent of their proceeds back to the cause, more than any other organization RELEVANT campus outreach minister and adviser Deb Heino, "Mama D," has encountered in her 20 years of service work.
"We all can be or will be affected by a disaster at some point," Mama D said. "Disaster knows no racial bounds or social status."
Each year over Thanksgiving, Christmas and spring break, RELEVANT takes students and any other interested volunteers to areas devastated by natural disasters. On these "go and serve" trips, volunteers work with Operation Blessing—a non profit humanitarian organization to help clean up debris and rebuild the homes of those impacted by disasters.
RELEVANT's trips are meant to help others comprehend just what those affected face in the aftermath of storms, Mama D said.
"It makes you aware that you are a part of a larger group than what is immediately around you."
RELEVANT's relief aid group meets on Wednesdays at 5 p.m. in the second floor, T.V. lounge of the University Center. To help with the benefit concert and silent auction, attend a relief trip, or for more information contact Jon or Mama D Heino by calling (906)-362-4669, emailing [email protected] or by visiting the RELEVANT at NMU Facebook page. RELEVANT donation canisters can be found throughout the campus and community.