Lake Superior water levels reach historic high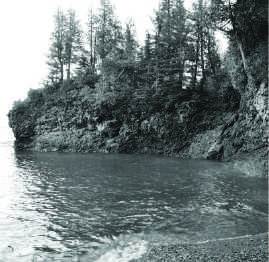 Water levels in Lake Superior recently reached historic highs, running just four to five inches below the highest recorded levels for the fall months, a factor which affected the magnitude of the Oct. 24 storm.
The water levels in Lake Superior have remained above average for the last couple years, said Matt Zika, a meteorologist with the National Weather Service in Marquette.
"[Four to five inches] may not sound that impressive, but if we go back to the years 2011 and 2012, we were talking about record low water levels on Lake Superior, and so since that time, we've accumulated almost 2 feet of water in Lake Superior over the last five years," Zika said.
The high water levels can be attributed to favorable weather patterns, he added, which has created a surplus in precipitation in the past five years.
"If you go back historically and look at how climate changes and how weather changes, it's not that unusual to go through cycles where you're either in a five or a ten-year period where things are a little drier and then they get wet for a while," Zika said.
Water levels typically reach their maximum in the latter of the summer months and well into the fall months, which is why we typically experience strong fall storms, he said.
"When you generate large waves, like the storm we saw at the end of October, on top of those high water levels, we see the impacts of tremendous beach erosion that has occurred in places along the lakeshore. So that's really the biggest impact that comes along with it."
While the high water levels will have no impact on the upcoming winter season, Marquette can expect more late fall storms in the years to come.
"Climatologically we typically do see at least one intense storm in the Upper Great Lakes during the fall season," Zika said. "The one we saw this past October, you see a storm of that magnitude maybe every four or five years, so I wouldn't expect us to see necessarily one as intense as we just saw here, but it's not unheard of to see storms like that and we may very well see one next year."
The combination of high waves and water levels made the Oct. 24 storm the perfect storm for lakefront damage, said Jon Swenson, director of Marquette's Community Services Department.
In certain places, Lakeshore Boulevard was covered in over a foot of sand and the Lakeview storm drain was completely covered in sand. Shiras Park and Picnic Rocks sustained substantial damage as well.
"The last two big storms we've had the same effect with Lakeshore Boulevard, where the rocks are kind of blasted up into the park and every time you scoop them back, you put the smaller rocks back on top and it kind of sets it up for more issues," Swenson said.
The most recent storm blew parking bollards as far inland as the playground and moved large chunks of asphalt in the Shiras Park parking lot, some of them in excess of 10 foot by 10 foot sections, he said.
At this time the city's goal is to keep the parking lot closed and start the public process to determine what the next steps are while potentially looking for emergency funding. Potential solutions could be adding more rock armoring, raising the level of the asphalt or relocating the parking lot, Swenson added.
"Original estimates just to resurface that parking lot were about $50,000 and then I think the cheapest thing we could do right now would be about $150,000. If we went into reconstructing it could be considerably more than that," Swenson said.
"We'd be looking at the earliest action on that sometime next spring. It could very well take longer than that."
With storms such as these come not only the potential for property damage, but also potential for injuries and loss of life, which is why everyone should exercise extreme caution, Swenson said.
"Anytime a park is closed that does mean it's closed and to make sure you stay out of that area. When we do close things down, they're closed for a reason and usually it's public safety."