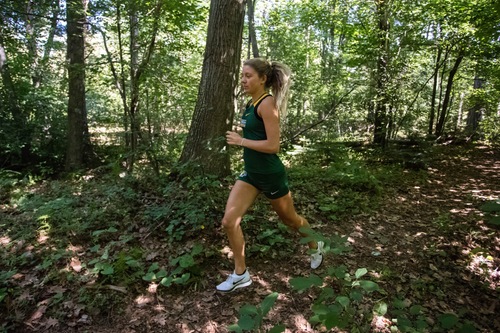 After finishing in 16th place of the 36 NCAA Division II teams at the Conference Crossover in Romeoville, Illinois, the NMU Women's Cross Country team looks ahead to the U.P. Championships. The meet will be held on Friday, Oct. 18 at home at the NMU Golf Course. The team will be squaring against Michigan Tech, a team that the Wildcats scrimmaged in the preseason. Head Coach  Jennifer Ryan talked about the upcoming meet. 
"The U.P. Championship is a race to prep for the GLIAC Championship and the Midwest Regionals. We are looking to run a fast race," Ryan said.
The 'Cats have been hard at work preparing for this important race, Ryan described what kind of preparation that the team is doing to get ready.
"The preparations include doing some intervals to prepare for the race course and also still getting in some volume to prepare for the races coming up," Ryan said.
Ryan also talked about some of the precautions that they are taking with this week's race. A few of the top runners will not be racing to stay fresh for the upcoming big meets, Ryan added.
Ryan mentioned some of the runners who she expects to do well such as sophomores Anna Kelley and Katrina Salmen. Them along with a big group of freshmen including Meghan Langworthy, Kim Carviou, Caroline Vegeberg, Emily Sterling and Morgan Lyon is who Ryan mentioned. This season has gone pretty well for the Wildcats, as they have finished towards the top in most meets including taking sixth in the Spartan Invite.
"It has been a good season so far, but I feel we still have some great things ahead," Ryan said. "We haven't yet had our best day, but have been solid throughout."
After going to tough meets such as the Roy Griak Invitational and Conference Crossover, Ryan knows of the lessons her team has had to learn, including adversity.
"The last two meets (Griak and Crossover) were respectable, but with so many runners we got boxed in and we were not able to run up to our ability," Ryan said. "We learned some things in each of those races."
The team has continued to get better over the course of the year, but Ryan is looking for it all to come to fruition in beating Tech this weekend.
"The team is training hard through the first part of the year and learning from all the races. There is a great atmosphere on the team and a great culture of hard work and positive attitudes," Ryan said. "The results have been solid and we look to continue to move up and forward."
Ryan said she believes heavily in what this team can do in the next coming races to warm up for the two biggest races in the season on the horizon.
NMU's last and only home meet of the season against Michigan Tech begins at 3 p.m. from the NMU Golf Course.