Senior 'Cats live ninth life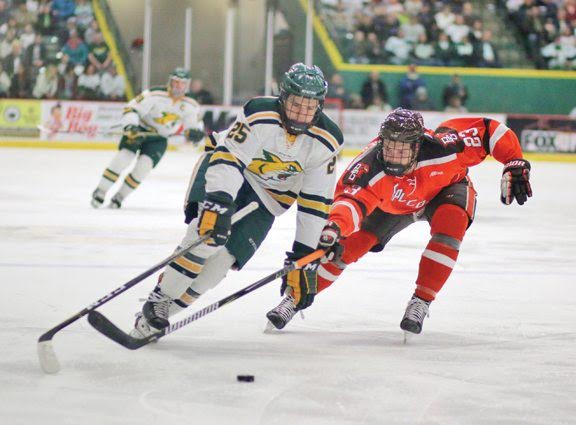 Basketball's Howard lives in the moment
Five days after being honored on senior day, senior center Myles Howard and the NMU Men's Basketball team needed a win against arch-rival Michigan Tech University (MTU) to clinch a spot in the GLIAC Tournament.
The Wildcats are not eliminated with a loss, but it would need some help in order to make the postseason. Not only is it a rivalry game on Thursday, Feb. 27 at the Berry Events Center, but for Howard, a loss could mean the end of his career.
"Thursday is the biggest game of the year, obviously it's Tech, it's a rivalry," Howard said. "But we're still trying to play to get into the playoffs, and this being my senior year, I don't want my season to end just yet."
NMU enters the weekend after splitting two entertaining contests on its home court, losing to Grand Valley State 82-79 in double overtime on Thursday, Feb. 20, and bouncing back with a 80-74 overtime win over Davenport on Saturday, Feb. 22. It showed resilience by the Wildcats to respond after falling in double overtime in a game that could've been won. It wasn't a big deal for the 'Cats however, as they simply listened to Head Coach Matt Majkrzak's message.

"Obviously losing to Grand Valley in double overtime was really tough for us, but our coach always talks about living in the moment. The moment during Grand Valley was playing against Grand Valley, taking one possession at a time whether that's offense or defense and just doing the little things right every single time," Howard said. "We lived in the moment on Saturday, and I think that was the biggest contributor for us in winning that game. We didn't look too far in the future, we just controlled what we could control."
Saturday wasn't only a big game for Howard and his team, it was an individual milestone too. Not only was he honored on NMU's senior day, but being from the Chicago area, his parents came to watch him play for the first time in Marquette.
"That was a great feeling, they've (his parents) been watching online and they've come to the closer games to where I'm from, which is just outside of Chicago," Howard said. "But I was just glad they were able to experience a win there, and I was glad they were able to experience such a great game, great atmosphere to be in and things like that."
It has been a long journey for Howard, but he was able to reflect on his career with the Wildcats.
"To be honored on senior night, that's just nothing short of amazing, because I've given four years to this program. It's been a great ride and I've enjoyed every second of it," Howard said.
In the first match-up of the season, the Wildcats knocked off MTU in Houghton 64-61 at the buzzer. That game began the trend of NMU playing well against the top teams in the GLIAC, and it has continued to do so. MTU qualifies as a top team in the GLIAC, it's in third place in the standings and easily in the GLIAC Tournament. With a win already over the Huskies this season, Howard and the Wildcats are bringing back a message from last year.
"Our coach last year (Bill Sall) said, 'we want to bring the broomsticks out,' I think that'll be the message. We beat them up at Tech, and now we want to
bring the broomsticks out because they're a great program, they've had a lot of success against this program in the past few years," Howard said.
"At the same time, we're just going to live in the moment, don't look ahead, don't look in the future, don't look at the GLIAC Tournament, anything like that. Just kind of look at Tech, focus on Tech and do what we can do to control our own destiny."
Howard's senior year has been interesting, as the 'Cats have lost to a DIII school (Ripon) at home, and have beaten some of the best GLIAC teams on the road (MTU, Davenport, Grand Valley State). When it comes down to describing the chance to qualify for the GLIAC Tournament, one word comes to mind for Howard.
"It's been much of a rollercoaster as anything," he said. "New coach, new system, we all had to buy into the system, we all had to buy into the new coach. We're just kind of trying to figure each other out because we lost two of our best players last year."
Howard wants more time to figure it out, and with a win over MTU, the 'Cats get at least another game. But even with the season potentially on the line, all Howard is thinking about is living in the moment. Tip-off between the Wildcats and Huskies is at 5:30 p.m. on Thursday, Feb. 27.
Hockey's Beaulieu looks for home ice
A lot of things will juggle through the mind of NMU Hockey's senior defenseman Phil Beaulieu on Friday night. Not only does a Wildcat win clinch home ice for the first round of the WCHA Tournament, but Michigan Tech is coming to town and it's the captain's senior night.
Beaulieu has been through three of these nights in his career, but has never been at the forefront of the attention. On Friday night, all the memories will rush in behind a big crowd at the Berry Events Center.
"I've been through a lot of senior nights, it was always really special to go through as a teammate with those guys, and now that I'm actually here as a senior, it's kind of surreal," Beaulieu said. "It's pretty sad but pretty exciting at the same time, I think I'm really looking forward to it, those Tech games are always a lot of fun."
Currently, the 'Cats sit in third place in the standings, four ahead of Alaska-Fairbanks and Bowling Green. To clinch the three or four seed and a first round home series, NMU needs to win one of its two games against Tech, or have Fairbanks lose one of two games against Alaska-Anchorage, or have Bowling Green lose one of two games against Alabama-Huntsville. Despite the added pressure with many things going on, Beaulieu is treating it like a normal weekend of college hockey.
"You have to win on the weekends, and the spot that we're in right now definitely adds more weight to the situation," Beaulieu said. "But I think every night you're going in to win, so no different than any other week-
end. We need to get three points to solidify home ice, and that's what we'll have to do."
What the team will have to do isn't that easy, as the Wildcats dropped the first two match-ups of the season to the Huskies. Tech is right in the hunt for a first round home playoff series as well, as with two wins over NMU this weekend would pass up the Wildcats due to tiebreakers. Beaulieu said that he thinks his team's effort was there despite the wrong side of the result, and that the 'Cats will have a good chance if it plays that hard again. Coming off a five-game losing streak, NMU finally ended the drought with a much needed victory over Lake Superior State on Saturday, Feb. 22.
"We obviously just came off of a five- game losing skid, so I think we're on the right track right now coming off of that win against Lake State, so I think we're in a good spot," Beaulieu said. "I think if we just listen to Grant (Potulny) and stick to our systems, we'll be fine."
Friday night's game has been pushed by Head Coach Grant Potulny as a chance to give the seniors a last great memory with a win on senior night against a rival, and to get home ice.
"He's (Potulny) like, 'We all have to make sure that go out there play for our seniors, and that we all play hard to get that win for home ice advantage,'" Beaulieu said. "So that's alway a key, and that's what we're looking for on Friday."
After losing the important players that the Wildcats did a season ago, Beaulieu has been the undisputed leader of the team dating back to the offseason. A lot of different twists and turns happened to put NMU where it is now, highs of battling Minnesota State-Mankato and Cornell, and lows of los- ing to Alabama-Huntsville and having multiple losing streaks. But after all is said and done, the Wildcats are in the driver's seat for third place in
the standings.
"After losing those seniors last year, that was a pretty core group of ours. With a bunch of new guys, I think we've exceeded expectations a little bit," Beaulieu said. "I think we squandered it a little bit in the second half going on that five-game losing streak, but with the success from early on, we've still really put ourselves in a great spot. We should be able to solidify home ice."
This game against the Huskies is officially the last regular season home game for Beaulieu, but with a victory, the 'Cats are guaranteed at least two more in a best-of-three series in the WCHA Tournament. Losing or feel- ing sad about senior night are not on his mind heading into a hectic Friday night, there are still more games to be played.
"I think I'm just going to go out there and enjoy it with my other seniors, and just the team, that's the best way to look at it," he said. "I'd rather enjoy it than be sad about it because it's been a great four years so far, and I think the best's to come."