NMU mandates wearing masks on campus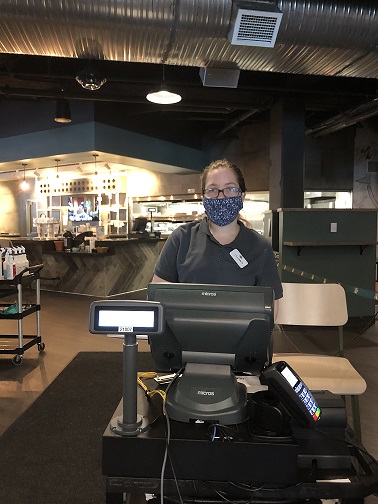 In compliance with the recommendation of the Centers for Disease Control and Prevention (CDC), NMU now requires all employees to wear face coverings while working on campus as of April 7, 2020. NMU employees, including student employees, must cover their faces during their shifts. According to NMU's website, the masks are not required in private offices or teaching labs. It is also recommended that students living on campus should wear face coverings when on campus, but not in their rooms or apartments. This protocol is intended to slow down the spread of the virus in order to not overwhelm the health care facilities with a potential rapid increase of COVID-19 patients.

Various face coverings are being utilized to meet this requirement. NMU face buffs, cotton maks and surgical masks have been provided from a variety of resources, including the NMU Marketing and Communications department, the Vielmetti Health Center, the Forest Roberts Theater and Masks for Marquette. Michael Bath, chief of police, stated in an email that officers are wearing face masks whenever contact with other individuals may occur, but they are not required to wear them while in their patrol cars.

"We have noticed good compliance with these guidelines and that employees are adhering to social distancing on campus," Bath said. "We are hopeful that the measure we take today will help reduce the impact that this virus has in our community."

NMU dining facilities are currently still open for takeout, but Northern Lights Dining is only open to NMU students living on campus. Masks are to be worn at all times in dining facilities when there are two or more employees present, said Brett Peterson, NMU safety and COVID-19 protocol lead and registered dietitian.

"Our goal is safety, not speed, and we have consistently adapted to this fluid situation through the guidance of the CDC, Health Department and campus leadership," Peterson said. "We're proud of the efforts by our team. Our staff and student employees have continuously stepped up, navigating near-constant changes in this unprecedented time."

Although face coverings are a good way to slow the spread of the virus, the CDC states the best way to prevent illness is to avoid exposure to the virus. Frequent hand washing and the practice of coughing or sneezing into a tissue or the inner elbow is recommended. Updates regarding COVID-19 and NMU can be found on nmu.edu under the COVID-19 Information tab.