University officials address travel ban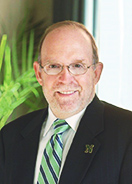 "Northern Michigan University values all students, faculty and staff – regardless of country of origin, immigration status, religious beliefs, sexual orientation, political orientation or other characteristics." President Fritz Erickson sent a campus-wide email Monday to address an executive order issued by the White House Friday, barring citizens of seven nations from traveling to the United States. The seven countries included in the order are Libya, Sudan, Somalia, Yemen, Syria, Iraq and Iran.
NMU does have students and possibly faculty affected by the executive order, Erickson said.
"We don't disclose private information about students or faculty. And we have a long history of not disclosing information," he said.
NMU is currently looking to assess the direct impact of the executive order on students and faculty through the Office of Student Affairs, Dean of Students and Human Resources and is reaching out to students who may be impacted, Erickson said. The university will comply with laws, but has announced its plans to support students and faculty affected by the ban.
"One of the things I'm most proud of as Northern Michigan University's president is our tradition of being a strong and caring community." Erickson said in his email. "The responsibility we carry to support each other, regardless of similarities and differences, has been a Northern hallmark for more than a century."
Brent Graves, president of the NMU Chapter of the American Association of University Professors (AAUP), said he thought Erickson provided a supportive statement.
"AAUP isn't going to be in favor of anything that disrupts higher education and I think that this, for many people, is highly disruptive of higher education," Graves said.
In a post on the AAUP's website, the Executive Committee of NMU-AAUP issued a statement: "We strongly oppose the travel ban and its implications for religious and ethnic discrimination. We plan to work with the Academic Senate to thoroughly discuss and respond to these events as a university community."
In the same post, three NMU professors denounced the travel ban and called for a stronger response from Erickson.
"I want to encourage our university leadership to stand up boldly against the oppressive dictates of President Trump," said Associate Professor of Native American Studies Martin Reinhardt in the post.  Jonathan Allen, professor of political science, said he sees the ban as a threat to the community, and he hopes his colleagues can see that as well.
"I do not want this matter to be treated simply as a question of offering 'listening' sessions, counseling, etc., to directly affected students or faculty/staff," he said.
Graves, speaking as an individual faculty member, defended Erickson's statement, saying many members of the NMU community hold different political ideologies and the university and university president cannot be expected to enforce one perspective over another, Graves said.
"It's our duty as individuals to speak out, but it's my perspective you don't tell anyone else what they have to say, including the university president," he said. "And, he can't speak for everyone else."