Staff Profiles
Katarina Rothhorn | Editor-In-Chief
2020-2021, 2021-2022, 2022-2023, 2023-2024 | [email protected]
The first message I ever sent from my Northern Michigan University sanctioned email was to the editor-in-chief of the North Wind asking if there was any way I could join the staff. Classes hadn't even started yet but I knew if there was one place I was going to be in college, it was going to be in the news room helping create an archive of campus life. Being a part of the North Wind has shown me a sides of NMU that I would not have known existed otherwise and has given me a platform to raise up the stories of those who are often overlooked. After being a copy editor, features editor and now the editor-in-chief, I feel so grateful to be a part of an excellent staff and have the opportunity to learn, grow, and make mistakes along side a great support system.
James Corbett | Business Manager
2022-2023, 2023-2024
Hello! I'm James Corbett, the Business Manager for The North Wind. I grew up in Fraser, MI, (a small suburb in Metro Detroit), and attended De La Salle Collegiate High School before coming to NMU. I am a senior here at NMU, majoring in Economics with a minor in Business Administration. I have been playing hockey my whole life, and I have been on the NMU Men's Club Hockey team since my sophomore year. I am currently the president of the Club Hockey team, and I was an assistant captain for the team last year. My interests are plants, golfing, music, video games, and comedy.
Dallas Wiertella | Multimedia Editor
2020-2021, 2021-2022, 2022-2023, 2023-2024
Through my experience here at the North Wind I have been able to have the privilege of highlighting students through all forms of multimedia journalism. Whether I'm in front or behind the camera, I aim to highlight human achievement in whatever way I can!
Molly Birch | Social Media Editor 
My name is Molly, and I am in my second year at NMU. I come from Midland, MI, probably one of the most boring places on earth. However, we do have the only Tridge in the world, so that's pretty nifty (google "The Tridge Midland, MI"; it's worth it, trust me). I enjoy reading, writing, knitting, and learning new things in my free time. I speak fluent-ish German, and I'm naturally a blonde. I've always loved journalism. I started taking journalism classes in my freshman year of high school and immediately fell in love with everything about the field. My favorite stories to write are profiles of everyday people because I love the intimate personal aspect of telling their stories. I am also an avid photographer.
Jolie Martinez | Graphic Designer 
2021-2022, 2022-2023, 2023-2024 
Hello! My name is Joleigh Martinez, I have been happily working for the North Wind since Sophomore year of my NMU career. I am majoring in Native American Studies and double minoring in Construction systems and Art and Design. I am a graphic designer for the North Wind visuals. I appreciate the environment our staff creates and hope to see this team succeed further in life knowing how hard and beautifully they work! I love being a barn/chicken lady, I enjoy playing tennis, and am very excited to graduate and kickstart life outside of college.
Andie Balenger | Opinion Editor 
2021-2022, 2022-2023, 2023-2024
When it comes to modes of expression, writing has always been my forte. I have been documenting my life since I can remember, the most valuable gift I ever received is a fluorescent pink diary from my mother at the age of six. Since then, I have been scribbling down every situation, opinion or fiction tale I have come into contact with. The North Wind found me during my junior year when a staff member bet that I had a lot of opinions. She was not wrong, and voila! I am now the opinion editor. While I enjoy telling personal stories of triumph and failure, I find fulfillment in providing an open forum of discussion for the students, faculty and alumni of Northern Michigan University.
Ryley Wilcox | News Editor
2021-2022, 2022-2023, 2023-2024
I found my passion for journalism during my sophomore year of college, writing articles here and there for the North Wind. Since joining the staff this past semester as the news writer, I have been able to learn more about writing and collect some new passions from the stories I have covered. I have always been a learner who was curious to know more about everything and figure out how things worked, which I have been able to do in my time at the North Wind. In my remaining time in college and on staff, I cannot wait to learn even more and find some new passions along the way.
Madoline Plattenberg | Features Editor 
2021-2022, 2022-2023, 2023-2024
During my time at Northern, I have found my passion for writing and editing through the North Wind. I was welcomed with open arms and I've been able to practice and hone my skills through various roles as a copy editor, assistant sports editor and now in my current position as features editor. As a multimedia journalism major with a public relations minor, I only expect to grow in the coming semester. I have previously worked as a News Reporting Intern at WORT 89.9 FM and Interned as an anchor on Public Eye News at WNMU-TV PBS.
Chris Anderson | Sports Editor 
2022-2023, 2023-2024
Chris moved to Marquette in 2021 and is pursuing a bachelors in entrepreneurship with a minor in computer science. Chris has been the sports editor with the North Wind since August of 2022 and also serves on the board for the National Society for Leadership and Success. When he isn't attending school and working he is at the gym, volunteering, golfing and many other activities.
Harry Stine | Assistant Features Editor 
2022-2023 , 2023-2024
In 2021, after one year of college and a semester of studying as a Public Relations major, I realized I wanted to be a journalist and not much else. After eagerly applying to be a Copy Editor, without even knowing AP style at that point, I started doing the occasional contributing writer piece for The North Wind. My frequent topic was satire. When I heard The North Wind was going through another round of hires, and a spot was open for an Assistant Features Editor, I applied in a heartbeat. I still do the occasional satire piece, but I take great pride in exploring NMU and Marquette for my topics, and finally having my head wrapped around AP style.
Jackie Phillips| Assistant News Editor 
2023-2024
I discovered my love for journalism when taking a class in high school on a complete whim. I learned that I had a passion for writing and designing and am so excited to have the opportunity to continue with that passion. In the spare time that I have I'm typically reading or designing my own pieces of art and occasionally having a private concert for just me in my room.
Hannah Jenkins | Copy Editor 
2022-2023, 2023-2024
Hi! My name is Hannah Jenkins, and I am one of the copy editors here at the North Wind. I am a sophomore at NMU, and I love all things writing and editing-related. I am proud to be a part of this great team that provides top-notch news coverage to the NMU community.
Annamarie Parker | Copy Editor 
2022-2023, 2023-2024
I am an English, Writing major with a double minor in German and journalism. I'm also pursuing my TESOL certificate while working for Housing and Residence Life. I love to travel and meet new people.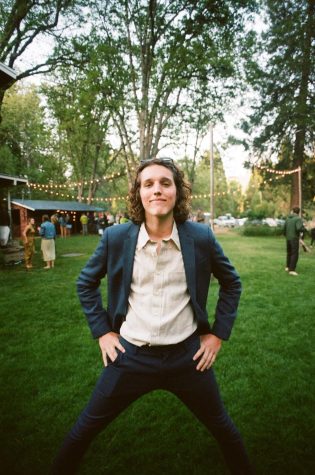 Fischer Genau | News Writer 
2023-2024
I've been called many things over the years. A thinker, a maverick, the homeschooled kid, "a little arrogant", and "kind of an intellectualizing jerk". I've also been called a writer. Mostly by my mom and my Nana, as they were the ones reading the manuscripts I wrote on PowerPoint slides when I was 10, but I'd like to think that I've grown into the label.
I served as a staff writer, Photo and Design Editor, and columnist on my high school newspaper, plus I've written tons of journal entries, hilarious text messages, incisive movie reviews on Letterboxd, and pithy little bios like this one.
I'm also a working photographer and videographer, a pretty good drummer, a passable rock climber, and an atrocious surfer. And I'm psyched to jump into journalism.
Willow Rasch | Features Writer
2022-2023, 2023-2024
When I was around seven or eight I saw a movie that was based off of a book, which my mother helpfully informed me of. During this she also told me that the book had lot more details then the movie. In an effort to prove her wrong I picked up books, and never put them down. Writing came quite easily after that, though purely in creative writing. Being apart of the North Wind is an amazing opportunity to expand my writing skills, among others.
Nathan Kwapisz | Sports Writer
2022-2023, 2023-2024
Nathan joined the Northwind staff writing for sports during this summer of 2022. Nathan is also a intern at Radio Results Network sales division. When not working He enjoys doing jiu jitsu and reading in his free-time.