Getting twisted while teeing off for good cause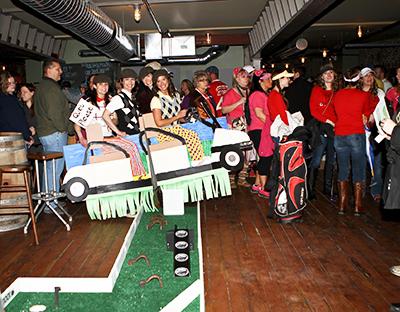 Food, drinks, putt-putt golf and adventuring through downtown will all take place in one twisted event. The Marquette Downtown Development Authority (DDA) is kicking off the spring season with the fourth annual Downtown Spring Open–Twisted Tea Off Saturday, April 22. The Twisted Tea Off is an indoor miniature golf tournament with each hole located at a different Marquette business.
From noon to 4 p.m., teams of four will travel to their assigned eight holes and wrap up the evening with a mandatory last hole at the Ramada Inn where teams will remain for an award ceremony which is from 4:30 p.m. to 5:30 p.m. Teams ($25/per person) can register online at downtownmarquette.org or at the Ramada from 10:30 to 11:30 a.m. on the day of the event.
Proceeds will benefit the Janzen House, a transitional home for men in Downtown Marquette.
"It's really an opportunity just to get people into some of the restaurants and pubs that they normally may have never gone to," Executive Director of the DDA Mona Lang said. "It's a way to open those up so people can go in, they can look at the menus and potentially have a drink there. April tends to be a little bit slow so it's a way to boost business and also to showcase our independent restaurants downtown."
Participants are encouraged to bring their own clubs and to dress up for the occasion. Not only will the first, second and third place teams receive prizes but awards will also be given for categories such as: most spirited attire, most creative team name and worst team score.
Last year, the event raised about $2,500 which was donated to the Janzen House.
Along with donations from other groups in the community, money from the Twisted Tea Off has helped pay for general programming in the past such as upgrading the facility and also allows the non-profit group to maintain a relatively low rent for their tenants, Janzen House executive director Brent Clark said.
"To me, it's proof that the Marquette community, in a lot of ways, really takes care of it's citizens that are in need. This is actually a very generous community all over the map," Clark said. "We hear that when people come into town and we find out that this doesn't really exist in most other places."