New minor program emerges with a focus on what it means to be an American citizen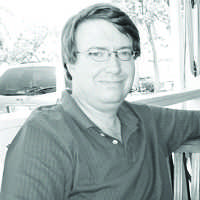 Next semester, NMU will unveil another new academic program that will be the first of its kind in Michigan. Students will have an opportunity to pursue a citizenship studies minor, which looks at civic engagement both in and outside of the classroom.
The minor is now available for students to enroll in. It will work in conjunction with Superior Edge, providing the means for student volunteers to work toward at least 2 of the 4 total edges that can be earned. Many of the course requirements and opportunities outside of the classroom will count toward the Citizenship Edge and the Diversity Edge, said Alan Willis, a history professor who will head the citizenship studies minor.
Even though the program can be completed without enrolling in Superior Edge, Willis said, much of the coursework will count toward Superior Edge that it makes sense to volunteer as well.
"It shows that you combined in-the-classroom and out-of-the-classroom work. It looks good to potential employers," he said.
Although there are no new courses that will come with the minor, the program pulls
together courses and ideas from many different areas of study that normally aren't paired to give students a more complete understanding of what it means to be an American citizen, Willis said.
"We're trying to give students an understanding of how we got here and how the government is supposed to ethically function," he added.
Willis mentioned courthouse observations as being just one of the opportunities outside of the classroom that are available to students who enter the program. Courthouse observation also counts toward Superior Edge hours.
What stands out about this program is that all the classes will be offered no matter what, Willis said. There won't be any semesters where program courses won't be offered.
The program will look at many aspects of American citizenship, including, but not limited to: the judicial process, diversity of population and the history of the United States.
Many of the offered electives focus on the diversity of the nation, Willis said. Required courses include Native American history, LGBT history, African American history and women's history.