An/(Ones) Ivory Tower showing February 12th and 13th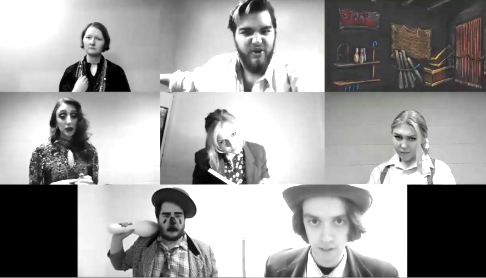 A play written, directed, and produced by NMU students is available for students to enjoy via zoom on February 12 and 13. An/(One's) Ivory Tower follows a trio of friends performing in a circus who confront the mistreatment of circus animals.
COVID-19 brought about numerous challenges for the group. Practicing and building friendships became difficult. Student Director and junior theatre student Sophie Sam shared how bringing people together helped the play come to life.
"Collaborating is important, especially during this time of the pandemic because it can feel so isolating," Sam said."[My favorite part was]watching everyone grow as they started to discover their creative process because this was a new experience for most of the people involved."
Unlike the student plays made in the past, this one had to be created mostly virtually because of the global pandemic.
"Auditions and practices were completed online which made it a distinctive, and certainly new, experience for everyone involved," Sam said.
Although getting together online was fun, it was also difficult. Production stage manager, and junior theatre student, Toni Danz stated that their favorite part of the collaboration was also sometimes the most frustrating part.
"We had to learn, adapt, and accept doing everything virtually, but because of everything being online, we were able to collaborate with people who are states away from us which would normally not be possible or as accessible."
Theatre major and senior at NMU, Jacob Laitinen, is one of the play's writers, as well as one of the lead roles, playing Bimbo the clown. Laitinen said his favorite part of the production was everyone working together to write the script, and finding their group dynamic.
"It can be difficult to find that dynamic with such like-minded, artistic individuals, but it is rewarding when you can finally piece together everyone's diverse ideas to make one cohesive vision. It was a rare opportunity and experience for students, and we hope it will inspire students to be more collaborative in the future," Laitinen said. After months of brainstorming, writing, and rehearsing, the play is available to be viewed from February 12 through the 13 at 7:30 p.m. Tickets are $17 General Public, $12 NMU Employee/Senior/Military, and $5 NMU Students. A link to the live virtual performance will be emailed to ticket holders before their chosen date.