School of Clinical Sciences hosts 'Open Lab Day'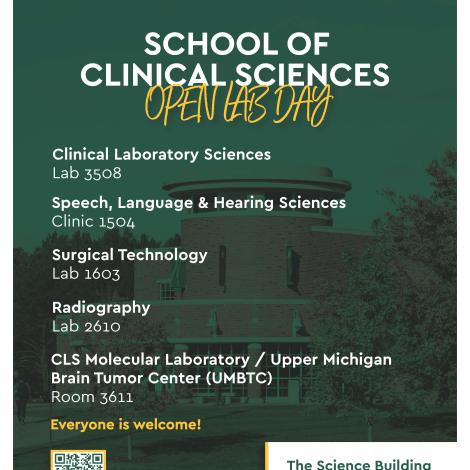 From 1-5 p.m. today in The Science Building, the School of Clinical Sciences will host an 'Open Lab Day' event for everyone to visit the School of Clinical Sciences labs.
The School of Clinical Sciences' mission is to educate future clinicians.
Sherida Riipi, executive secretary of the School of Clinical Sciences, said that there is shortage of allied health professionals in the region and with events such as 'Open Lab Day', students are able to gain hands-on experience towards their field of interest.
"We are holding this event for recruitment of students who are still undeclared college students and also high school students thinking of going into healthcare," Riipi said. "This helps both our programs and also helps the hospitals who have a major need for health care workers."
According to their website, the program seeks to engage students in innovative, problem-based learning, preparing them to serve the regional and global community with skill and compassion. The School of Clinical Sciences strives to provide excellent instruction so graduates will be highly successful in attaining certification, employment and professional development.
The event will have students coming from all across the Upper Peninsula. Students will be given a location and description of the labs and from there they will be able to choose what labs they want to visit, or they may choose to visit them all.
For any questions, call Riipi at 906-227-2125 or email at [email protected].