Suit Up: The unconventional style of Lachlan Mulholland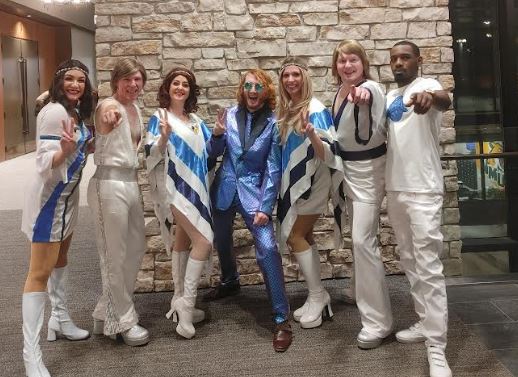 On January 17, NMU began its winter semester, and a new student walked the halls of Jamrich. Wrapped in a lounge jacket, with bright, shiny colors that easily stood out in a crowd, Lachlan Mulholland began his legacy at Northern. 
Mulholland is a general studies major but has plans to go into mechanical engineering. A West Virginia native, he came to Northern when an RA friend of his told him about the university over Discord.
"I wear the suits because they're comfortable more than anything …. I don't wear the suits to compensate, but they help boost my confidence," Mulholland said. "It's not for attention. I will say that a lot of people think it is, [but] it's more just because I feel good in the suits."
The origin of the suits goes back to seventh grade, when his dad bought him a blazer from Target. Mulholland thought it was comfortable and began wearing more professional suits in his day-to-day life, but something was off. At the beginning of the following school year, he went to Kohl's and got a Pac-Man suit.
"After that it kind of just snowballed because the jacket had cards from OppoSuits on it," Mulholland said. "So I looked them up and I noticed that they had a ton of other suits. And I … just bought some from there because they aren't expensive."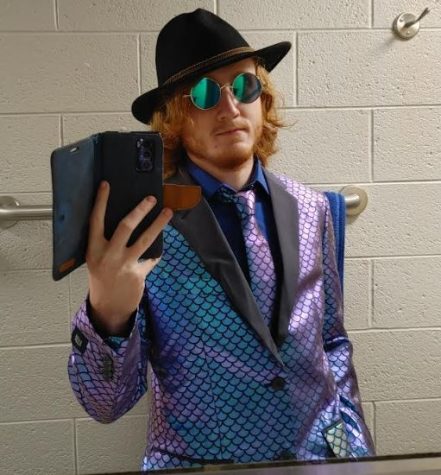 With OppoSuits as his go-to brand, he built his wardrobe, having a suit for every day of the week by the start of high school. But on Fridays, he would hang the suits up and don a kilt for the day. With his father a Scotland native, Mulholland stated he "knows how to wear a kilt."
For the most part, Mulholland summed up his style as comfort. He said he simply feels more comfortable in suits than in sweatpants, which he doesn't even have a pair of with him at Northern. Not to mention jeans, which he called his "least favorite pants," and therefore have never taken up any space in his wardrobe.
He also enjoys some of the ways the suits can spread positivity, and sometimes even creativity, as he noted some of the regulars he sees on campus dressing "more and more wacky."
Mulholland believes the suits helped him get accustomed to college life easier. Despite being at a new school in a new state and living by himself for the first time, he said he hasn't had any of the challenges he thought he would have, and the suits may have helped.
"Every single suit corresponds to a mood because if I wear a suit like this, I'm going to be energetic," Mulholland said. "My body's going to associate that suit with that feeling. But if I wear a suit like my Pac-Man suit, I'm going to be more laid back and relaxed. It just depends on what your body is associated with."
For the future, Mulholland has a few ideas. He has plans to bring the kilts to campus once it starts to warm up. He has a custom-made disco ball suit that is a different color depending on which angle you look at it. He has suits and styles that he wants to keep as a surprise. But for the most part, he's focused on enjoying college and getting more acclimated to life at Northern.