The NMU Women's Soccer team closed out the GLIAC conference tournament with a 1-0 decision against the No. 6 UW-Parkside on Sunday afternoon. This tournament win earned the team its first ever GLIAC tournament champion title, coming just a week after the team earned its first regular season champion title.
The team's drive and strong leadership was a major factor in earning these historic titles. When discussing factors that have contributed to the team's success, Head Coach Jon Sandoval said their leadership group is really strong, but also stressed the importance of the informal leaders within their group.
"Arguably, role players are the most important players on the team … they're so bought in to what they're doing and they continue to show up and practice at a high intensity, pushing every single person," Sandoval said. "When you have a great leadership group combined with the informal leaders, the informal role players, [you have] a design for success."
Leading into the final two rounds of the GLIAC Tournament, the Wildcats reached a program best ranking of eighth in the country. This ranking came on Tuesday, Nov. 7 in the ninth poll from the United Soccer Coaches organization.
Story continues below advertisement
The team has been led by a commanding offense and held steady by a strong defense, earning them an overall record of 16-1-4 and a record of 9-1-4 in conference play, placing themselves in a strong position leading into the NCAA Tournament.
The Wildcats have put themselves in the driver's seat for most of their matchups this season, leading the GLIAC in shots with 369, with 192 shots placed on goal.
Leading the offensive charge this season, Molly Pistorius has placed an impressive 45 shots on goal. This relentless offense earned Pistorius the ranking of first in the GLIAC in both goals and points, with a personal record of 14 goals and 32 points.
Pistorius has dominated the pitch this season, earning her multiple noteworthy national rankings and multiple placements as an NMU program statistics leader. Leading into the NCAA Tournament, Pistorius is tied for No. 14 in the nation in goals, No. 20 in the nation in points and No. 13 in the nation in shot accuracy. These incredible statistics earned Pistorius the title of GLIAC Offensive Player of the Year.
Pistorius has already earned herself multiple program history titles. Three of these titles include eighth in career points, second in season points, and No. 10 in career goals. Pistorius reached these three titles amongst multiple others as a sophomore, with much more growth to look forward to.
Hannah Kastamo, Stephanie Trujillo and Brooke Pietila have consistently been right alongside Pistorius to keep the offensive push going. Kastamo has earned six goals and four assists in the regular season, while Trujillo earned five goals and five assists. Trujillo is currently tied for first in assists along with Pietila in the GLIAC rankings.
The team has been held steady by a very strong back line throughout the season, led by familiar faces Izzy Brusilow, Gwen Kiilunen, and Maria Storm. Storm was recognized for her skill as a defensive player this past weekend, being awarded the title of GLIAC Defensive Player of the Year.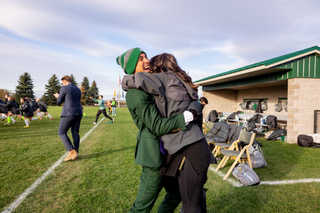 "[Storm] has always been that good," Sandoval said of her first GLIAC recognition. "She's always been that dominating on the field … She continues to show up every day and get better and better, and she takes everyone along with her."
Across 21 games this season, the defenders held opponents to only 58 shots on goal allowed. Compared to the Wildcats' record of 192 shots on goal, this paints a vivid image of an almost impenetrable defense for the 'Cats.
In addition to allowing only 58 shots on goal, the defenders have held their opponents to only 39 corner kicks thus far, proving that the 'Cats maintained control often in their defensive zone.
Sandoval attributes a portion of the back line's success to NMU's newly hired assistant coach, Laura Wayland.
"The hire of Laura Wayland was massive," Sandoval said. "Her ability to manage [and] take ownership of this backline … you've seen the stats … they're massive for defenders."
Sandoval also praised Wayland for the role she plays in the team culture.
"Her ability to coach young people and be there for them for things even outside of soccer, has been a huge part of our culture," Sandoval said.
Jillian Thompson notched her fourteenth shutout of the season against UW-Parkside on Nov. 11, now holding the ranking of first in the nation. Thompson holds the record for the most season shutouts in program history, with the previous record being nine in a season. Thompson is also currently second in program history for career shutouts.
The team now looks ahead to its NCAA Regional Quarterfinal matchup against Maryville University. Though the team fell to a 1-0 decision against Maryville in the teams' first and only matchup in 2022, the Wildcats are in a very strong position leading into the upcoming match.
The 'Cats fought hard this season to earn home pitch for the regional quarterfinals, with their away record of 7-1-1 contributing significantly to their points earned this season. Their record of 16-1-4 was secured amidst a strength of schedule that is significantly stronger than last year. This serves as a nod to the improvement of the team since last year's historic season.
Hosting this matchup is very significant for the 'Cats as they have shown a commanding history at home. The team has gone 9-0-3 at home this season, and has a home record of 21-0-6 since its last loss at home. 
"The confidence factor of just being through it before definitely helps, especially for the younger players who can kind of lean on those upperclassmen or those who have been through it before," Sandoval said of the team approaching the NCAA Regional Quarterfinals. "The most obvious thing that's good is that we're home and we enjoy playing in front of our home fans."
Tune in to the game this Friday, Nov. 17 at 1 p.m. as the Wildcats attempt their national run and fight for a spot in the NCAA Regional Semifinals.