Letter to the editor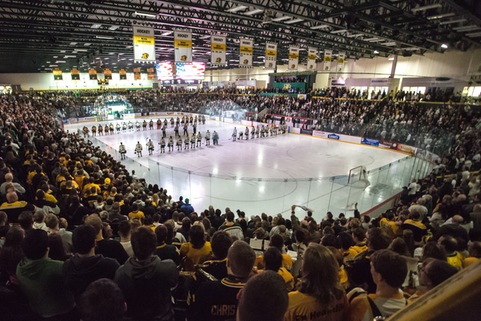 All hell broke loose on campus last week when it was circulated that students would have to pre-reserve seats for hockey games this season. This change comes as athletics as a whole is rebranding in an effort to entice more students to attend athletic events.
After speaking with the ticketing office on Thursday to find some clarity, I see a host of problems which I will lay out for your readers.
Starting this season, "free" student section tickets will become available online at noon on Sundays. Students may only reserve one ticket, and they must pick their seat. If you would like to sit with your friend group, you would need to have that friend group all together when selecting tickets on Sunday, or run the risk of not all choosing the same seating area. If you add additional members to your friend group throughout the week, there is a chance that no more tickets would be available for your previously selected section.
I was told by NMU Ticketing that the remedy for this is to have those students return the tickets through the website and select a new section where there is available room for their additional friends (essentially starting the process over). It seems like an awfully heavy burden for students to undertake, just to sit with their friends at a hockey game.
You must have your virtual ticket at the time of entering the Berry in addition to your ID, as just showing your student ID is no longer enough (every other sport still only requires your ID). Ticket revenue seems to be behind the change, as the NMU Ticketing website now states under the student section tickets, "If at game time student tickets are not all claimed, the tickets may be sold to the general public, if all other tickets are sold out."
This means you and your friends could be sitting in the student section, with members of the community, who are not students.
The bottom line is, athletics clearly did not make an effort in speaking to students about this change, because students would have told them it was an awful idea.
If athletics wants more engagement from students, they need to make it easier for students to attend and sit with their friends, not harder.
This is not to criticize the hockey team, because I fully support the efforts and initiatives they are making to connect with students and new fans. Assigned seating and pre-reserved ticketing may work at a school like Michigan State, but we are not them, and we shouldn't try to be.
In the Marine Corps we had a saying, "good initiative, bad judgement." This was not a well executed initiative, and just bad judgement on the part of athletics.
If student attendance at hockey goes down this year, one may wonder if this burden on students didn't have something to do with it.
–Logan Hartz, junior, political science major