Foraging for natural awareness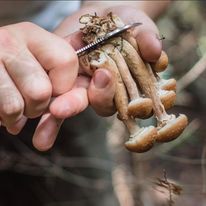 The natural environment is often a central reason why students choose to attend NMU. With many sustainable and environmentally aware degrees, students who attend NMU are typically more aware of their natural surroundings.
Foraging is not as popular as one may think in this area, according to Yrsala Peterson, a senior music major and secretary for the Native American Student Association. Yrsala spent her entire childhood in northern Wisconsin, living off the grid. Without running water or electric heat, she gathered with her mother, mostly for medicinal plants.
"Foraging is very empowering, it connects you with your landscape and opens your eyes, especially for me, to how my ancestors may have lived in this area. I'm Native American, my mother's family is Ojibwe from White Earth, Minnesota, so my ancestors have gathered on this land for generations," Peterson said.
The time Peterson has spent foraging and connecting with the land has allowed her to appreciate the many gifts the natural world offers. While she currently attends NMU, that has not stopped her from continuing to forage in the U.P.
"Springtime is my favorite time, a really bountiful time. I really love spring greens, things like lamb's-ear is a really good dark ear similar to spinach. Gathering burdock root, a blood purifier used in tea a lot. As far as summer goes obviously the fruits start to go in season, but we have a wild carrot that grows around here," Peterson said.
The U.P. is also home to many berries, including strawberries, blueberries, thimbleberries and more, according to Peterson. With so much to harvest, Peterson feels that there is plenty of room for foraging to grow in the area, and encourages students to get involved.
"Foraging forces you to spend a lot of time in the woods exploring. You get a really good sense of the natural progression of the seasons. It puts you very in touch with the natural environment which is kinda hard right now because that's changing a lot," Peterson said.
NMU alumnus "Mushroom" Joe Lane, found his attraction to foraging early on in life. It eventually earned him his nickname in a college biology course when he couldn't stop identifying mushrooms in class.
"I went to an environmental school in 5th and 6th grade, I was always pretty interested in mushrooms. I remember we were doing this one thing where we were building an eco web with a picture of a shrew and a piece of twine and then all the webs went back to a picture of someone holding a mushroom and that always stuck with me," Lane said.
His time spent foraging has changed how he perceives nature around him, according to Lane. In an ongoing argument with his former roommate, Lane argued that trees are sentient beings.
"We now know through fungal networks that trees are able to exchange sugars for different beneficial minerals and nutrients. Also, the fungus is relocating nutrients for different trees. It's this beautiful space between life and death — mushrooms. Decaying foliage that is now not living and relocating it to other things and creating nutrients and mushrooms that we grow and eat," Lane said.
Lane often incorporates his foraging into his diet, creating meals undiscoverable in any restaurant or most kitchens. Using ingredients like yellow birch twigs, birch polypore and other natural ingredients he creates meals that "end up tasting really cool," according to Lane.
Although there is much to harvest, Lane says he can not help but feel guilty for taking what he finds.
"The typical rule of grace is to take two-thirds of what you find at a spot. Just sit with it for a while too. Once you start to create a capitalistic means to go out it starts to feel more extractive," Lane said. "I feel guilty taking things unless it's in serious abundance. It's okay to take things still, I want people to enjoy it and connect, but don't leave society to go pick mushrooms in the woods and take constitutions from society into the woods. You're entering a new space, don't capitalize it. Share it with people and enjoy it."
For students who wish to get involved in foraging, Peterson suggests starting out with what is familiar.
"Traditional foods are a great way to get started, and that's just berries, really. I think it's an identifiable thing to get into the woods and start to see what's around … very easily identified and if you see something on the way and you don't know what it is, break out a field guide or an app."
Peterson also suggests reaching out to the Center for Native American Studies for more information regarding foraging. They also hold events that serve to teach students about Indigenous culture and gathering. Students can also follow Lane on Instagram at myco_joe.mqt. He also plans to launch a website soon that incorporates foraging.