On Thursday evening, senior Nicole Cash had piles upon piles of crocheted turtles in front of her, hoping to sell many at the Pop-Up shop hosted on the second floor of Ore Dock Brewing Co. She, among other artists, showcased her artwork as community members observed. With her, NMU students sat in a circle of tables with original works at each one.
"I love coming to the Pop-Up shops, and I sell a lot of stuff while I'm here," Cash said. "It's a way to meet other artists and expand the network. The community is so nice and supportive."
As a biology major, Cash was able to connect her work with her passion to make a difference. Her plushies were made out of recycled yarn and bamboo fiberfill. The turtles are completely compostable, and 20 percent of each purchase is used to restore turtle habitats. While supporting the environment, Cash was also able to find her hobbies and pursue them in her free time.
"Turtles are my favorite animals, and as a bio major, I am really invested in conservation efforts," she said. "I learned how to crochet during COVID, so I combined the two things that I loved."
Story continues below advertisement
Hosted by the Students' Art Gallery, the Pop-Up shop could give students a chance to gain experience and notice while selling their work in a local area. Typically, the organization exhibits work at the Lydia M. Olson Library, but also encouraged enrolled NMU students to branch out and sell their work in a unique setting. Students handed out business cards and introduced their websites as they displayed their art.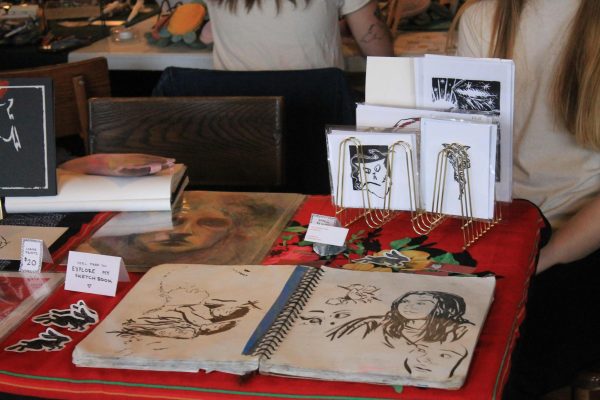 Outside of fiber arts, students sold a plethora of different work of many medias, including photography. Turner Miles, for example, was proud of his landscape photography and provided framed work as he sat front and center of the gallery. He took the Pop-Up shop as an opportunity to boost his business and was enthusiastic throughout his time selling his artwork.
"I printed all of these pictures from the U.P. and I cut them and framed them myself," Miles said. "[My work] is important to me because I love capturing nature and showing it to other people. My goal is to get people outside and experience nature, because it is beautiful, and I think more people should experience it."
Students selling work at the Pop-Up shop were appreciative of the opportunity to advance their skills and spread their artwork into the community. The room was filled with smiles as they displayed their creativity among other students with similar interests. The Students' Art Gallery hosts similar events throughout the school year that can offer similar connections and opportunity in the future.
"This whole process was really helpful and informative," Miles said. "It is really good to know how to frame, print and learn [to sell artwork] in the future."