Halloween season is one that is taken seriously here at Northern Michigan University, and it is a time to dress up and have fun with friends and campus faculty. With much suspense about what NoMAD was going to put on for a concert this semester, that concert finally took place this weekend.
On Saturday evening, Oct. 28, The Witching Hour concert took over the Northern Center Ballrooms with three different groups performing. A local Indy rock band, Passed Out, Curbside, opened the show with some of their original songs and covered the well known song "Float On" by Modest Mouse that had the whole crowd singing. 
Passed Out, Curbside is filled with NMU graduates and current student Nick Falco, who is also the lead guitarist and vocalist. The band got together unknowingly when they were all looking for roommates to live in a house, on Facebook Marketplace. 
"We didn't know each other beforehand, but turned out we were all musicians. And then we just started jamming together in our basement, and then turned out to be what we are today," Falco said.
Story continues below advertisement
The second performance, one would think they were seeing two. The twin sister group, Aint Afraid, put on a hip hop soul music set that got the party moving. Sisters Inah and Yahzi came up from Detroit with their "momager" to perform an energizing set.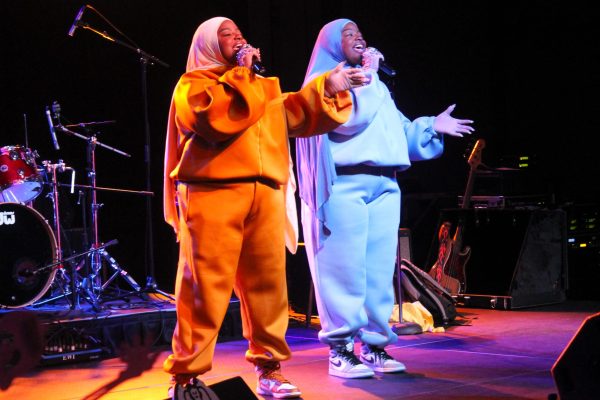 The sisters have been singing since they were two years old and music has always been a staple in their household.
"Our mother created the environment where music was invited into everything. It felt instinctual," Inah said.
The two expressed how grateful they are to be where they are, coming from being poor, living in Detroit and building a successful singing career for themselves.   
"We grew up poor. We didn't have lots of access and all the same options as everyone else. We did the National Anthem at our brothers' basketball games, then people used to, at one point, booked us for every weekend for multiple shows."
They ended a great performance with getting the audience to sing the song "Smile Today" from their 2021 album. 
An intermission took place for the costume contest, where a group of students who were willing to enter themselves stood up on the stage to hear the crowd cheer for their three favorite costumes.
For the third and final act, coming all the way from California was Spooky Mansion, a surf and soul rock band that flew in to Minneapolis and drove up to Marquette. The band got together mostly by accident.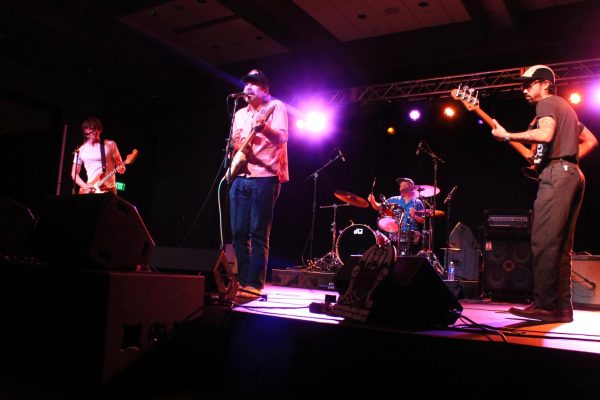 Grayson Converse is a singer/songwriter and lead guitarist for the band.
"I studied jazz piano, and then that was hard, but rock music is easy," Converse said. "I then did a year abroad in France, and I was gifted a little acoustic guitar. I started writing songs, and it was more and easier to express myself."
Though the original band members weren't there due to other commitments, that did not mean that the show could not go on. They rocked the night away until the very end.