'Planning for Distinction' talks sweep campus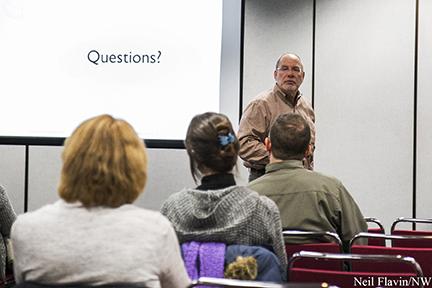 Meetings started this week to outline the recently announced "Planning for Distinction" project, providing question-and-answer forums to NMU community members on how the university is looking to find the most effective way to measure programs and allocate resources.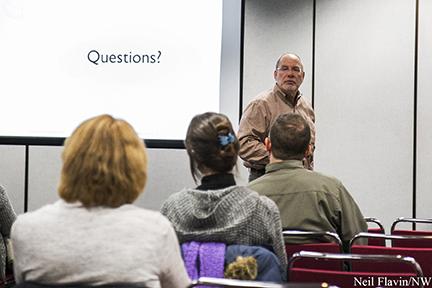 Head of Campus Strategies, LLC, and Consultant for the "Planning for Distinction" campus-wide assessment, Larry Goldstein ran the public information meetings.
Goldstein's company helps institutions of higher education create strategic plans and establish criteria for evaluating academic programs and support functions to help make informed decisions on how to properly utilize resources.
"I think that American higher education employs some of the brightest people in the world with fantastic educations, and yet they amazingly learn how to add and not how to subtract. So, when a program gets created it will be there forever," Goldstein said in the first NMU community forum on Tuesday morning.
Goldstein explained that programs that are added through higher education are rarely taken away regardless of performance or budget limitations. He said that when cuts are necessary, across-the-board reallocation does not work.
"In my experience, across-theboard cuts lead to mediocrity," Goldstein said.
The "Planning for Distinction" project is meant to move data collection involving campus programs into the hands of those most closely involved using a top-down bottom-up model, he explained.
Senior leadership brought the project forward looking to gain insight from campus employees who work more closely with campus life.
"People in senior leadership don't know what they don't know. They don't live the life of a typical faculty or staff member," Goldstein said.
The highest positions allowed on the two task forces that will be created will be department heads, Goldstein said. The two task forces will be academic and support, academic encompassing strictly teaching based programs and support involving any auxiliary or non-academic programs that provide assistance to academics.  Like many universities across the nation, NMU faces budget cuts every year, Goldstein said. The task forces will have the job of setting up a system of measurements and criteria for programs specific to NMU.
"I think this is a good way of questioning the status quo and investing resources," Goldstein said.
Transparency is a key component of this plan, Goldstein said. Reports will be made based on both quantitative and qualitative data provided by programs on campus and will be shared with the NMU community when sent to senior leadership.
"I won't work with a campus that doesn't want to treat this in a transparent manner," Goldstein said.
Brent Graves, biology professor and president of the NMU-AAUP expressed support for the "Planning for Distinction" project."
"What's good for the university is good for the faculty," Graves said.
This will not be an easy process, he added. However, in the long run it will be positive for the faculty, students and university in making sure that NMU's strengths are emphasized.
"Every year there are budget cuts. Every year costs go up faster than our budget does so we've got to cut someplace," he said.
Cost is the most serious problem facing higher education, University President Fritz Erickson said. From state budget cuts to needing to compensate for inflation along with the cost associated with operation and maintenance of the university, expenses keep rising.
"The biggest chunk of it is really the disinvestment by the state and public higher education and that's been a travesty," Erickson said. Some programs do not need to be closed, but they need an investment or change in direction to attract students, he said.
"What they're looking to do is figure out where we should be really investing in programs and looking at each program in terms of viability for the life of the university and what we can do to really increase that," Erickson said. Erickson believes that the university has been too centralized in its decision-making process in the past. What he would like to do is empower individuals to make decisions for departments they are most familiar with and involved in.
"If you leave it to me, I won't know the intricacies of what's the best direction for a particular program. I won't know enough," he said.