This summer, NMU approved the installation of multiple medical safety features throughout campus, including Automated External Defibrillators and sharps disposal containers.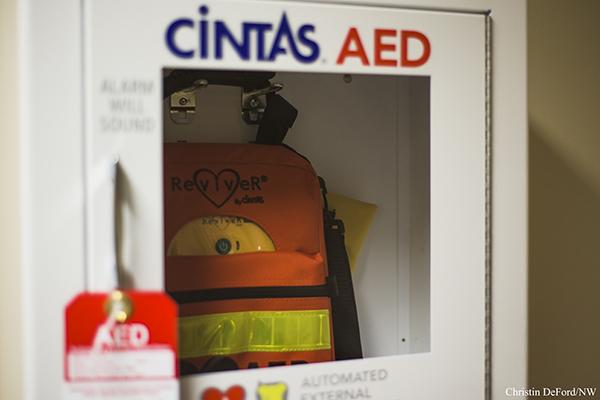 After waiting multiple years, Public Safety and Police Services received the approval to place 30 sharps disposal containers throughout restrooms around campus to be used for disposal of needles, lancets, and syringes.
Mandy Magno, Occupational and Environmental Health Specialist, took charge in getting these safety items placed around campus.
NMU is currently creating a Sharps Policy which will give people a way to learn about medical sharps and safe ways to dispose of them. The policy is being created to help minimize exposure to bloodborne pathogens, such as Hepatitis B, Hepatitis C and Human Immunodeficiency Virus, which are easily transferable through used needles.
Story continues below advertisement
There have been a couple of needle stick accidents with NMU faculty and staff in the past, said Magno. Needle stick accidents can happen if a sharps disposal container becomes too full and needles poke out of the container or even when a needle is put in the trash and pokes out the side of the garbage bag.
"If somebody has a place they can dispose of their medical sharp more easily and confidentially, it will make our campus much safer for our employees, students and visitors," Magno said.
Sharps disposal containers were installed around campus in August 2016. They were placed in every first floor women's and men's restroom in most buildings on campus.  If there was a unisex restroom, one was installed there instead. The University Center and Cohodas have sharps containers on multiple floors.
If students that live on-campus are in need of a sharps disposal container in their room, they can request one from Public Safety and Police Services, and drop it off to Magno when it is full to get a new one. Used disposable sharps are to be placed in puncture-resistant containers, as close to the use as possible. The sharps are then picked up by a licensed medical waste disposal company and taken to a processing area for decontamination and safe disposal.
All employees have been sent an email with the location of the sharps containers if they are needed and stickers are being made for paper towel dispensers in all restrooms to direct students, employees and visitors in need of where sharps containers are located.
If accidentally stuck with a needle, immediately wash the exposed area with soap and water. If that is not available, use a skin disinfectant such as rubbing alcohol or hand sanitizers. Contact NMU Public Safety and Police Services, Human Resources or the Health Center as soon as possible and seek medical attention, Magno said.
Along with needle dispensaries, NMU also purchased and installed 21 new Defibtech Reviver View Automated External Defibrillators (AEDs) on campus over the past year. AEDs are portable electronic devices that can be used to treat Sudden Cardiac Arrest (SCA), a condition where the heart suddenly stops beating. This is one of the leading causes of death in the United States and can happen to anyone at any time.
Out of the 21 AEDs that have recently been purchased, none placed on campus have had to be used. However, they can also be found in police cars, Public Safety vehicles and at the PEIF, where they are used occasionally.
Magno is working alongside others to determine the best way to provide optional CPR/AED training for NMU employees. The hope is that more people will be responsive, and if they have training, be willing to help quickly and efficiently.
"The more people trained in CPR/AED procedures means critical care is immediately provided, increasing survival rate for the victim," Magno said.
It is not yet required, but in order to use an AED, a person should go through CPR/AED training.
Barbara Coleman, associate professor of health and human performance, discussed a few classes that allow for this training at the PEIF and through the nursing program. There are also courses offered outside of academics for others who may want to have CPR or AED training.
"An American Heart Association Community Training Center is located in the School of Health and Human Performance and American Red Cross classes are available in Recreational Sports. Both are located in the PEIF," Coleman said.
Public Safety and Police Services student employees check all sharps containers and AED's weekly.
With the AED's, they check for a green flashing light. If it has turned red, there may be a maintenance problem, or expired pads or batteries— which is fixed right away. Sharps containers are changed when they get three quarters of the way full and a new container is put in its place.