Local GOP leader resigns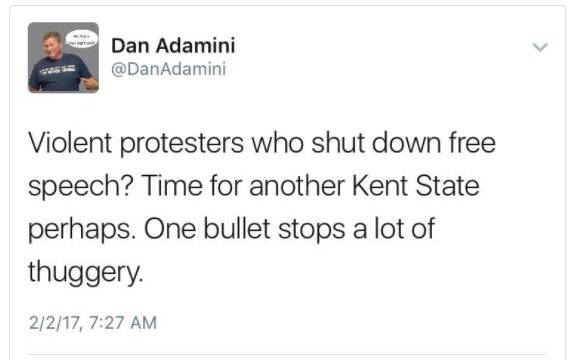 A former secretary for the Marquette County GOP stepped down from his position yesterday after a social media post he made in response to violent protests at UC-Berkely went viral on Twitter, causing an outrage at both state and national levels.
On Thursday, Feb. 2, Daniel  Adamini, who is also the former chair of the Marquette County Republicans and host of the radio show "In the Right Mind" on WDMJ/WIAN, posted on his Twitter  account "Violent protesters who shut down free speech? Time for another Kent State, perhaps. One bullet stops a lot of thuggery."
In the posts, Adamini referred to a 1970 shooting at Kent State University in which National Guardsmen shot 13 unarmed college students and killed four in an effort to stop riots.
That very same evening, Adamini shared more of his perspective on his Facebook account, where he posted, "The violent protests at our universities certainly indicate Portage Acacian at the lower level. I'm thinking another Kent State might be the only solution protests stopped after only one death. They do it because they know there are no consequences yet."
People who became upset by the posts believe Adamini was suggesting that protesters around the country be shot for their actions.
Adamini has since apologized for his choice of words and told local media outlets the posts were "misconstrued" and taken out of context. Since they went viral, Adamini says he has received threatening messages on all of his social media accounts and has resorted to removing both his Facebook and Twitter pages.
Jacob Ogea, President of the NMU College Republicans, said Adamini only spoke for himself and the college Republicans do not condone his remarks. He also spoke for the Marquette County GOP who he says doesn't condone Adamini's remarks either.
"When you look at what he said—the context of it, he apologized for it. It's one of those things where I think he spoke for himself so obviously he said it in a bad context. He says that he meant to say it in another way but I'll let people draw their own conclusions," Ogea said.
Ogea said he thinks the story received more national attention because "left of center" media outlets like the Huffington Post ran with it and generated more controversy.
"In this day in age, it's important to condemn when someone says that we need to target protesters but at the same time make sure that we protest in a peaceful manner," Ogea said.
Jason Chapman, Chair of the Marquette County Democratic Party, said he was "shocked and completely disgusted" when he first read the posts made by Adamini.
"It put our beautiful county in a bad spotlight," Chapman said.
He argued he doesn't believe Adamini's post was taken out of context because he continued to keep going on Facebook and his radio show even after receiving backlash.
"I think he needs to truthfully and honestly apologize. He continued on his radio show on Saturday to insult liberals and Democrats. If he would have been truly apologizing for the right reasons, he wouldn't have taken his radio show—the next day, to again insult Democrats and liberals," Chapman said.
"The people that this affected most, I feel so bad for—the families and the victims of the Kent State Massacre," Chapman said.