FRT goes mad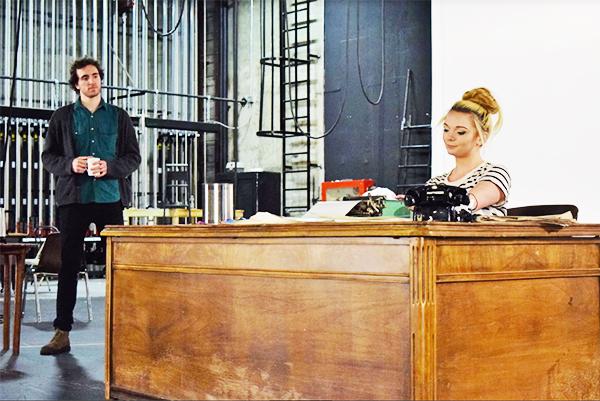 Take a step back in time and submerge yourself in the hectic and struggling business world of  1930 with the Forest Roberts Theatre's (FRT) latest production "Building Madness."
The slapstick comedy written by playwright Kate Danley was this year's winner of the Mildred and Albert Panowski playwriting competition and is directed by Paul Truckey. The play will run Wednesday, Feb. 22 to Saturday, Feb. 25 with showtimes at 7:30 p.m. each day and a matinee showing at 1 p.m. on Saturday.
The play focuses on two friends, Max and Paul, and their rather ditzy secretary Trixie, who take over Max's father's architectural firm. They must make decisions to save the firm from going out of business, but unknowingly make the wrong ones which leads to more chaos, and they must try to dig their way back out of the mess.
This is one of the play's first few debuts and its first showing at NMU.
"It's definitely going to be a brand new kind of work. I think it's important to bring to NMU because a lot of times, for me personally anyway, shows that people come to see are already really well known," said stage manager and fifth year theatre and entertainment arts major Katherine Marsh.
"It's important that not only students, but community members and theatre goers get the opportunity to see new work that they have never seen before."
Unlike other shows, "Building Madness" has a small and personal cast with only six members.
"You don't have to worry about learning all their names and memorizing everyone like crazy. We have a nice little variety of community members and NMU students. A lot of them are already involved in theatre and are just very excited to be a part of the program," Marsh said.
Marsh said the cast for this show is energetic and excited for the upcoming show.
"Building Madness" is her senior capstone project and watching the actors grow into their roles has been her favorite part.
"Getting to see already a hilarious comedy come to life through the actors and see how they're kind of exploring the show, and the roles, and all the different hilarious punchlines, it's just been really fun for me. Not a single rehearsal has been boring. I've laughed so hard every time and you always find a new joke within the script," Marsh said.
Comedy is  great to bring in when dealing with unknown works. The genre brings in more theatre goers as well, Marsh said.
"I don't want to give anything away, because I want everyone to see it and experience it on their own, but there is definitely a lot of high energy moments that are really just full of chaos. They're very fast and furious, if you will, but funny," Marsh said. "I can't wait to see how those go when we have a full audience."
"Building Madness" is a part of the FRT flex pass season. Tickets are $15 for public, $10 for students and $5 for NMU students.