Women's Lacrosse goes varsity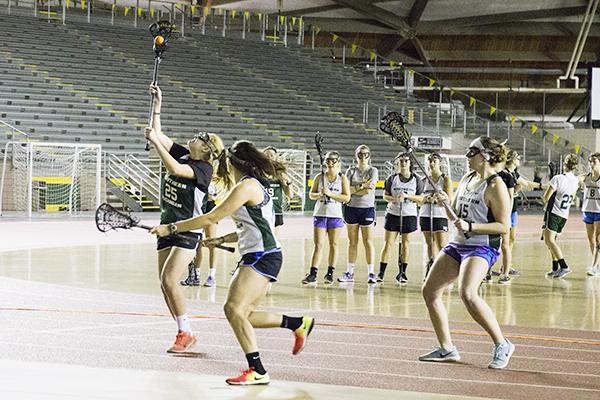 The final of the new sports, announced in the spring of 2015, begins its inaugural season. Women's Lacrosse tips off in the Superior Dome on Saturday.
The team began as a club sport before the university decided to turn the team into a division II sport in the Great Lakes Intercollegiate Athletic Conference.
Several players were taken from the club team. Sophomore defender Tori Aidif was one of the players chosen from the club team and she said transitioning to a varsity sport was a change of pace.
"Last year in club we worked but we didn't work as hard as we do this year," Aidif said. "It's been a little bit of an adjustment for sure. It's nice to have coaches who have a lot more structure."
Head coach Emilia Ward, a Michigan native, comes to NMU from Kalamazoo College where she helped build the women's program from its infancy. She helped grow two other university programs in their beginning stages. She also played Division I lacrosse at Manhattan College.
Ward said the team is really excited to get the season started.
"They're not over anxious, they're not nervous," she said. "They're just very excited to get out there and get out against somebody else and compete. They're excited to show the fans what they're made of and what Northern is going to be about."
The season starts at noon on Saturday, February 18 against the Northland College Lumberjacks. Northland is a another first year program. They started their season last weekend with two losses.
Ward said the coaching staff has been able to watch film from the two games but as far as the team is concerned they're just focusing on their own health and playing. In practice Ward said the biggest thing they've worked on is not being afraid to get physical, which is difficult in practice because players don't want to injure their teammates.
Freshman defender Nicole Smith was recruited for the inaugural team from high school and said while she got injured in the first week of practice she's seen the team come a long way.
"Hitting the weight room a lot and running up and down this field has made us a lot more fit, faster, stronger," Smith said. "Sticks skills, catching and throwing were kind of a mess at the beginning. Now you wouldn't even know."
While Ward said the community has been welcoming to the new sport, Smith said it's been met with a lot of confusion about what lacrosse even is.
"I think it'll be awesome for our first game to actually show everybody in Marquette what lacrosse is and what we can do here," Smith said.
Ward's best explanation for the sport is a combination of basketball and ice hockey. The big ideas on offense and defense mirror basketball but the small details such as power plays are similar to hockey. Based on what people in Marquette enjoy she thinks it'll develop a fanbase.
"As fans develop, learning the specific rules they'll still be able to have a lot of fun watching it just from other sports they get to see here," Ward said.
Smith said she's excited for the impact that NMU lacrosse can have on the community.
"Hopefully they can start doing lacross up here in the high schools and the middle schools getting it more popular," she said.