Nordic Skiing preps for regional champs race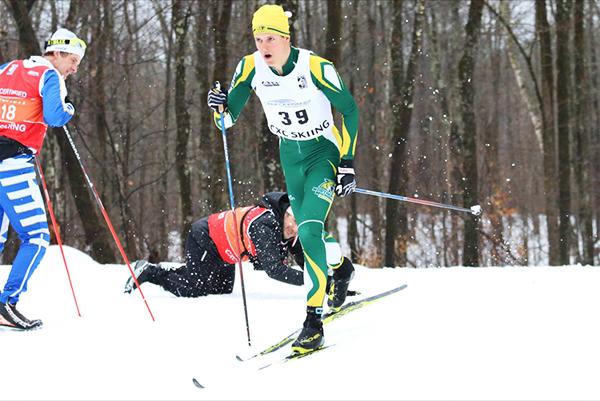 The Northern Michigan Nordic Skiing teams will return home this weekend with momentum on their side after taking several awards at the Rhinelander CCSA Qualifier held in Rhinelander, Wisconsin last weekend.
Senior Adam Martin finished in first place in the 10K classic with a time of 26:33.28 while senior teammate Fredrik Schwencke came across the line in second, 11 seconds behind. Freshman Lars Sonsterud finished third to complete a podium sweep for the Wildcats. Freshman Zak Ketterson rounded out the top four.
Martin said he was happy with the team's performance in the 10K and admitted they tried something new.
"We tried double-poling which is using only your upper body," Martin said. "It worked out well and it was fun to explore a new technique."
In the women's 5K classic, the Wildcats swept the top five positions with junior Vivian Hett taking home first place with a time of 15:36.21. Senior Kristen Bourne was 10 seconds behind her in second place. Nicole Schneider, Caroline Brisbois and Sophie McDonald rounded out the top five for the Wildcats.
Bourne said she's happy with the team's performance last weekend.
"We're all very proud to be on a very successful team that consistently sweeps podium spots," Bourne said. "I'm quite satisfied with how this past weekend turned out; though I'm looking forward to the races this weekend on our home course to potentially place even higher."
Other finishers for the Wildcats included senior Sam Elfstrom finishing seventh in the 10K while freshman Mathias Rolid took tenth. Senior Sophie Schimpl took seventh in the 5K.
The Wildcats compete in the NCAA Central Regional Championships held at the Al Quaal Recreation Area in Ishpeming on Feb. 18-19. Last year, Schimpl won the 5K on day one. On day two, NMU won both men's and women's team titles edging out the University of Alaska-Fairbanks on both sides.
Wildcat assistant coach Shane MacDowell said preparing for regionals is just like any other meet.
"It will be business as usual," MacDowell said. "Testing wax and getting skis prepped like any other meet."
Martin expects the races this weekend to be more competitive due to the event being a joint race with the National Ski Hall of Fame SuperTour. Several non-collegiate skiers will also be racing for points, making the event more difficult, he said.
"The classic races this weekend will be much more competitive because of the SuperTour event," Martin said.
Temperatures are expected to be in the 50s on Saturday, making conditions unusually warm for skiing. MacDowell said that the team will have to adjust, but it shouldn't be too much of an issue.
"These guys are used to racing in colder weather so their bodies will need to adapt a little more," MacDowell said. "They'll need to stay hydrated and have stuff ready."
If successful at this event, NMU will qualify for the NCAA National Championships in Jackson, New Hampshire on March 6-11. Schwencke was the last Wildcat to win a national title after winning the 20K classic race in 2015 at the National Championships in Lake Placid, New York.
MacDowell said the team will have a well-deserved rest after regionals.
"After this we'll have an off week, a full week of training and then it's off to New Hampshire."