ORLM students visit Costa Rica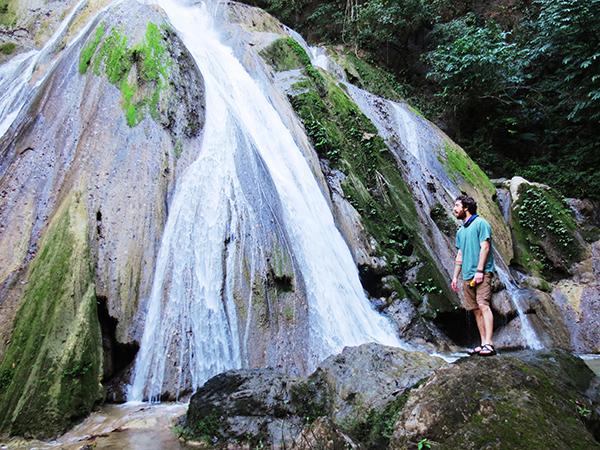 A recent trip to Costa Rica allowed 10 NMU students to participate in firsthand efforts of ecological conservation and ecotourism as they embarked on a two-week journey over winter break.
Costa Rica features varying climatic zones and landscapes, creating biodiversity that entices tourists and students alike to the area.
The Outdoor Recreation Leadership and Management (ORLM) students were led by NMU professor Scott Jordan, who guided them through six locations on their
journey.
First, the students worked with the University of Georgia (UGA) at a research outpost, participating in naturalist tours where they were introduced to the surrounding ecosystem as well as the history of development nearby, Jordan said.
"There were unique plants and animals everywhere we went," he said.
As an ecotourism trip, there was concern for the environmental costs of travelling abroad. Many ecotourism models strive to make up for the fuel used in travel by neutralizing the travellers' carbon dioxide output with alternative activities at the destination. Jordan said the NMU students gained experience with carbon neutrality through participating in a project with UGA researchers, where they put soil in bags that held tree seedlings to eventually be planted.
In theory, the seedlings would offset the amount of carbon dioxide they used for the trip.
According to the UGA Costa Rica Carbon Program, planting four native trees reduces one ton of carbon dioxide over the next several years. This will offset the average carbon dioxide emissions of travelers, which currently averages below one ton per person. At other locations, the participants engaged in conservation of wildlife by working with locals in the protection of leatherback turtles, which are an endangered species due to egg poaching, Jordan said.
"Because it's not protected, people take the eggs and sell them," he continued. "The eggs are served with beer to tourists, so they're popular and a moneymaker."
The group went out at night to follow the turtles' paths in the sand toward their nests. Once the turtles laid their eggs, Jordan said they buried the eggs elsewhere on the beach to hide them from poachers and to promote gradual population growth.
The students saw wildlife from a different perspective visiting Playa Samara, a coastal area in the Guanacaste Province of the island. During a kayaking excursion to an island reserve, they snorkeled with sea turtles and squid, seeing the importance of protecting these species firsthand, senior ORLM student Jarred Battles said.
"Snorkeling with sea turtles was a surreal experience that I will remember forever. I easily could have spent several weeks or months at every place we went," Battles said, adding, "here was just so much to explore and learn about the country, its inhabitants and the culture."
Engaging in this culture, the group took Costa Rican dance lessons and tasted traditional foods.
Playa Samara also served as a model for "traditional tourism" in contrast to the ecotourism model the students had explored elsewhere in the country. Jordan reaffirms that traditional tourism leaves greater negative impact on the culture and ecosystem of a given area compared to ecotourism practices.
"Throughout our trip, we noticed many locals had a similar respect for the land and the need to preserve it for future generations," junior ORLM student Emily Gantner said.
She explained how visiting a sustainable, organic coffee farm contributed to her understanding of conservation and sustainable living.
"Costa Rica was a life-changing opportunity," Gantner said. "I got hands-on exposure to how ecotourism provides for the locals of Costa Rica. My experience has encouraged me to utilize my degree and be an educator of responsible outdoor recreation."
Study abroad trips such as this are not restricted by major and offer hands-on experience in relevant fields of interest. Jordan emphasizes the valuable role of ecotourism in the field of outdoor recreation and said the department looks toward growth of courses offered in the subject in the near future. Until then, NMU plans for an upcoming Eco and Adventure Tourism trip to Poland in May.