We're all mad in Winterland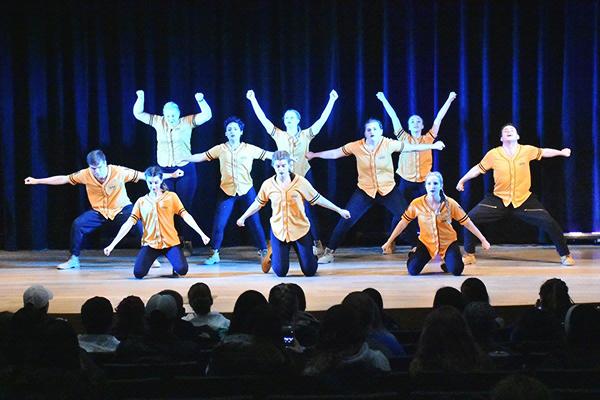 Even the sudden gush of what feels like spring in Marquette hasn't stopped NMU's 2017 WinterFest activities from commencing. Clue, an air band competition, tug-of-war, human sled dog races, and an obstacle course along with other events have already brought together students and organizations across campus.
WinterFest events run from Feb. 17 to Feb. 25 and are similar to university homecoming events. Likewise, the events are also themed, this year's: "Alice in Winterland."
NMU's Special Events Committee hopes WinterFest will involve students in campus events and the outdoors during the winter months, said special events coordinator and senior hospitality major, Megan O'Brien. "I think it brings more school spirit. We're trying to bring students together," O'Brien said. "You're competing for a purpose, to raise awareness, either for your student organization if nobody knows who you are, or it's hall pride."
Dorm halls, house based teams and student organizations compete against one another in each event. This year Spalding Hall has taken many of the wins, O'Brien said.
"We had some really good clues for our clue competition, that we thought were going to go the entire week and I get a voicemail on Monday that said Spalding already found the clue on Sunday night," O'Brien said. "They've been taking away most of all of the events. They're very excited about everything."
This year the Special Events Committee added a few new events to the WinterFest activities such as a dinner to the Mr. & Mrs. WinterFest competition.
"It's been around for awhile, but students say they like to see new things, especially with the air band competition. It's fun and great, but we just think it needs a little bit of a change. Otherwise, I think WinterFest is starting to kick off more than it has just with the addition of new events," O'Brien said.
The WinterFest events will conclude with a tailgate, which is another new addition, O'Brien said.
"For the past two years we've had really nice weather for sled dogs, tug-of-war and the obstacle course. We normally have really cold weather so it's a nice change to have warm weather. We're looking forward to having some snow for Friday's tailgate event, hopefully there is a little bit of snow on the ground so it makes it a wintery tailgate."
The tailgate, open and free of charge to students and community members, will take place from 5 to 7 p.m. in front of the Berry Events Center and the PEIF. There will be activities for students and music from Double Trouble DJ's. Saturday, the Special Events Committee is offering students the opportunity to purchase a ticket for a bus ride to Houghton to attend the NMU versus Michigan Technological University hockey game.
"It brings an excitement to the student body besides, you do homecoming in the fall and you have the rest of the year, and you're like 'well, what do I do now?' I think it's just a week of getting students excited about the things that are going on, on campus especially when it falls on a Michigan Tech hockey game…Students get really excited about that kind of stuff," O'Brien said.