Michigan universities lobby against proposed income tax cut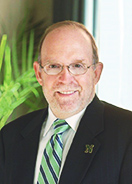 Presidents and officials from nine of Michigan's 15 public universities gathered outside of the House of Representatives in Lansing on Feb. 21 to lobby against a proposed income tax phase-out bill that was rejected late the next day.
House Bill 4001, proposed by Rep. Lee Chatfield (R-Levering) pushed to drop the personal state income tax from 4.25 percent to 3.9 percent over four years beginning in 2018 and lower it .01 percent each year after, eliminating the tax altogether by 2057.
While this bill could be positive for individuals and families, it could have adverse effects on public universities and other public institutions in Michigan.
NMU President Fritz Erickson, who joined in the lobbying at the House, said the lowering of income tax and its eventual elimination would create "an imbalance of funding for the university."
"The state government works towards a balanced budget," he said. "There are two sides of the ledger—the revenue side, which is in large part income tax-generated and the expense side. Part of the expense side is what the state of Michigan provides in funding for the state universities."
Erickson said by eliminating the income tax, there would be an imbalance of funding between the revenue side and expense side that the university would have to resolve.
"If the state side of the revenue [income tax] were to decline, we would have to do one of two things: either cut our budget some more—which would mean cutting services and opportunities for students, and potentially academic programs—or we would have to raise tuition," Erickson said. "It could have had a real ripple effect all the way down to our students."
Erickson added that Michigan has been going through a "very strong recovery" and the approval of this bill could be detrimental during a time when the revenue generated from income taxes could be used to fix roads, invest in educational opportunities and provide more direct financial aid for students.
"This is a time to invest in the future of our state, not disinvest," he said, adding, "That was really the reason why all of us got together and wanted to share our opinions with the folks in the [House of Representatives]. We're looking for the state to do the very best they can for our students."
Governor Rick Snyder also voiced concerns about the bill in a statement, stating it could have been over $1 billion lost by 2022.