Relevant redesigns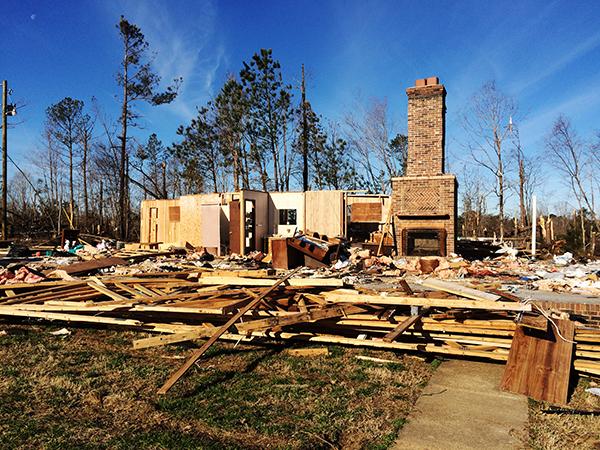 On Thursday, Aug. 25, 2005, trees were violently uprooted and swept away, smashing into whatever impeded them. By the following Monday, Hurricane Katrina reached critical velocity and slammed into New Orleans, displacing millions and permanently scarring the landscape.
Six months later Deborah Heino, also known as "Mama D," and an anxious group of students stood ready to assist with cleaning up debris and demolding water-damaged homes. They even went into homes that couldn't be remodeled with sledgehammers—tearing them down—and helped to restore plumbing or mechanics to those that could.
"That first trip to [New Orleans]—six months after Katrina—was probably the most devastation that any student had seen," Heino said. "I had seen worse but even the community members that went with us said it was the worst they had ever seen or experienced in terms of loss of life and in terms of destruction of property."
Heino serves as the adviser for Relevant (formerly known as Chi Alpha), a recognized student group within the Northern Michigan University Campus Ministry Association. Heino has taken Relevant members on "Go N Serve" missions for the last 18 years.
The group is currently headed to the 9th Ward of New Orleans over spring break to assist with restoration efforts of the region still blemished with an "apocalyptic" façade 12 years after Katrina.
Relevant's service projects usually entail restoration after natural disasters, remodeling homes for elderly church members and even going to inner-city areas to assist with feed programs like food pantries during breaks in the academic year. Heino said even high school students have been taken on service trips in the past.
Heino is a retired military veteran who served as first responder on the search-and-rescue teams that were dispatched to New Orleans shortly after Katrina. She has also assisted in places around the world like India, Pakistan and Japan.
Typically around ten students assist Heino on seasonal service projects but the capacity is 20 members per trip. To apply for a trip, students can email Heino to find out preliminary information like trip expenses and work expectations. There is an application process as well as a medical form students must fill out in front of a witness.
The costs to participate in "Go N Serve" missions can vary from $250 to $375 but reasonable accommodations can be made if such a need arises, Heino said.
"We expect people to work their best—their hardest. Now that doesn't mean we don't allow for some enjoyable time while we're working but we want people to focus on what we're there for," Heino said. "We're there to complete tasks that we're given."
Former Relevant President and NMU alum Sarah Ylitalo went on her first "Go N Serve" trip in 2010. She wrote in an email, after that first experience she has never been more thankful for something as simple as a roof over her head and four walls that keep out the weather.
"'Go N Serve' trips are worth the money," she wrote. "Not only do these trips bring wonderfully special memories but [they] bring experiences that only you and the members of the team can bond over. Every young person should take one of these trips."
Other students like former Relevant president, NMU graduate and public administration major Ross Johnson assisted Heino on trips to places like Adairsville, Georgia nearly three years ago, where they provided tornado relief efforts to survivors. Johnson said it's one thing to hear about catastrophic damage by storms on TV but another thing to actually see the devastation in person.
"I would say my biggest encouragement was already having an innate sense of wanting to help out others in need, if it was within reason—if I'm capable of doing it," Johnson said. "That was the main driving force and being able to actually do [the tasks] makes the rest of the process that much easier."
Heino said Relevant has built a solid reputation with national organizations like Habitat for Humanity, Operation Blessing and Samaritan's Purse.
"A lot of times they will contact me and say 'A tornado has happened' or 'We have this flooding in this community all along the Mississippi River. How close are we to any of your school breaks and do you think you could get a team together to assist?'" she said.
It was a Georgia-based Habitat for Humanity organization that reached out to Heino during Relevant's trip to Adairsville three years ago.
All in all, Heino offers her services because she said her Christian faith compels her to do so and because even today she still asks herself, 'What would Jesus do?'
"I don't do it for what it does for me. I do it because—as a Christian, this is what I firmly believe Christ would be doing himself," she said.
Co-leader of Relevant and activities coordinator Dale Throenle said one reason for students to go on trips is that they come back with new skillsets. These skills include things like learning how to install drywall and even using power tools students might not have encountered before.
Throenle said even though the price to go on a trip can seem daunting, it pays intrinsically to volunteer your time to a greater cause versus going somewhere like Florida to party.
"It becomes a mindset of 'Why haven't I been doing this all along?'" Throenle said. "When you come back—you have a tendency to do the same thing when you come home and that's the beauty of watching it happen."
For more information about upcoming "Go N Serve" trips, Heino can be reached by email at [email protected]. Relevant can also be contacted by phone at 906-362-4669 or by email at [email protected]. The group has regular fellowship gatherings from 6 p.m. to 8 p.m. on Sundays.