Maschmeyer's last frames as a Wildcat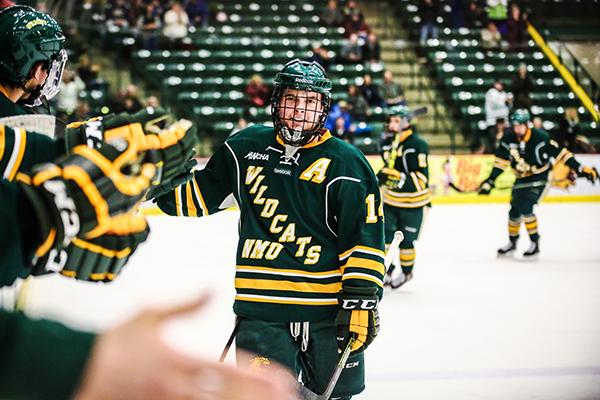 Editor's note: Senior defenseman Brock Maschmeyer­—a native of Bruderheim, Alberta—talked to the North Wind, reflecting on his time as a Wildcat and his nomination for the NCAA Senior CLASS Award.
Q: What was it like growing up in Canada?
A: Cold, no but honestly it was a blessing. I have two brothers and two sisters and two loving parents. They all pushed me to be a better hockey player. Without all of them I would have never made it this far.
Q: When did you know hockey was a passion and something you wanted to pursue?
A: I was about three years old and my dad, he had me on his shoulders at the Old Bruderheim Arena. Now named after my grandmother, the Karol Maschmeyer Arena. He was standing in the corner of the old rink with me on his shoulders watching my brother play his first game as a hockey player. My dad asked, "Do you want to be like your brother and play hockey?" From that point on hockey has been my passion and really my career. It has taken me all around Canada and the USA, it has also brought me to places like Russia and of course Marquette.
Q: Is Canada really that different from the U.P.?
A: Well Canada isn't that different though maybe a little colder and less snow than good old Marquette.
Q: What made you chose NMU when looking at college hockey programs?
A: I was looking at two Alaska schools as well as another Michigan school, though my coach in junior hockey said that he knew the coaching staff at NMU and I should be getting key ice time coming in as a freshman. After coming on a fly-down the summer before freshman year it was at that point I knew I was coming to NMU. Marquette is similar to back home but really in the summer nothing is really like Marquette at all; it is absolutely beautiful here.
Q: Can you describe how it felt as a freshman coming into the program and playing the first season?
A: At first you're nervous being on a team that you are still getting to learn everyone's names, the systems you play and the school that you're attending. But once I hit that ice at the Berry Events Center for the first time it was like I never had left the outdoor rink that my dad makes every year for us kids. That first season of hockey I was playing for NMU, I was playing forward for about 15 games until one of our seniors had been injured placing me back on defense. After that I have been on defense ever since and I love it.
Q: What's one of your favorite memories from four years on the team?
A: One of my favorite memories and moments has been every time we play rival school Michigan Tech. From the puck heads in the past years to the sign guys fans this year, the fans at the rink have made playing for NMU one of the most memorable experiences of my life.
Q: What is the biggest thing you'll take away from our hockey program?
A: I think the biggest thing I will take away from the program would be the friendships and bonds I have made on the team. Sami Salminen is my best friend at NMU and not going to lie he is one of the biggest characters on the team. Without that guy here it wouldn't be the same. Friendships last and you go from undergrads to graduates in a new place in this world.
Q: You've been a point leader for the team and alternate captain for a couple years, how do you manage being a leader on and off the ice?
A: I find it's all about time management; NMU classes and hockey have really helped me manage my time on and off the ice. So giving back to the community is one of the best things us hockey players can do for the fans and alumni at NMU. Without those people that support the hockey team and other athletics, there are no NMU sports and friendships being built.
Q: You were chosen as one of the nine people in all of NCAA Division 1 hockey for the senior class award nomination, what did that mean to you? How did it feel being chosen among so many other athletes, some from very prestigious universities?
A: It is a great honor to have been nominated and be selected as one of the top 10. Being selected as one of the athletes feels really great, reading about each of the nominees and what they are doing in their communities I feel honored to be one of the 10. Everyone in the running had done great things through their athletics and community.
Q: While fan votes only count for 1/3 of the final decision, it seems that your community has rallied around as you're far ahead of most of the other nominees. What does that mean to you knowing so many people are rallying for you?
A: It means so much to hear about family and friends and the community of Marquette rallying behind me. The feeling behind that is so strong, it is unbelievable that I have been able to make an impact in peoples' lives in the community and now their making one of the biggest impacts in my life. It really feels amazing and I'm truly grateful for everyone voting. Thank you is the one thing I
can say.
Q: As you finish your senior year and move on to other things, what would one last accolade mean to you?
A: It means a lot to me and I feel with all this support I am getting from the community this award really shows who NMU and Marquette as a community is. We are strong and care. Let's be honest, we are all Yoopers at heart.
Q: While a split isn't ideal, how was it winning your last regular season game against Michigan Tech?
A: In the four years I have been at NMU, we have never won our last regular season game against Michigan Tech until this year. That feeling was like a breath of fresh air. Though not going to lie, the game against Tech at the Berry where the crowd was screaming and cheering at the end of the game, there was nothing like it that I have ever felt before. That feeling made shivers go down my spine and excited me. That moment in that game is what every hockey player dreams of, a crowd cheering so loud you can hear your own voice. That feeling was incredible.
Q: Do you have any superstitions or routines before big games?
A: Not very many. The one is when I put on all my equipment I put it on left to right, so for example if I put on my skates I put on my left skate then I put on my right. Then I tie my left skate and then tie my right.
Q: Your mom was able to make it out for senior night, does it make it better having family there to play for?
A: My mom is absolutely amazing. She flew out for 12 hours just to come onto the ice and receive flowers. Without her driving me to the rink at 6 a.m. in the morning when I was a kid and having to juggle between all five of us kids, I would never be here at NMU. It is a great feeling when my parents watch me play in person and it truly makes those games special. One of the coolest things is that they try to come out and watch me play as much as they can. If they can't be at the game they watch every game that they can't make on the computer back home. That means if I have a game, my brother has a game and sister has a game, they will pull out three screens and play the games all at the same time, switching from one to the next.
Q: What was it like playing for such a huge crowd at the Berry on Friday night?
A: It was one of the greatest feelings ever. As I said, that feeling of the crowd shaking the arena is what every hockey player dreams of.
Q: How do you feel Northern shaped you as a person, besides hockey?
A: Every day you're faced with a new challenge. NMU has changed me forever and given me the ability to continue playing hockey and become a better person.
Q: What comes next, after NMU?
A: Pro hockey is the next step.