Women's Basketball season comes to a close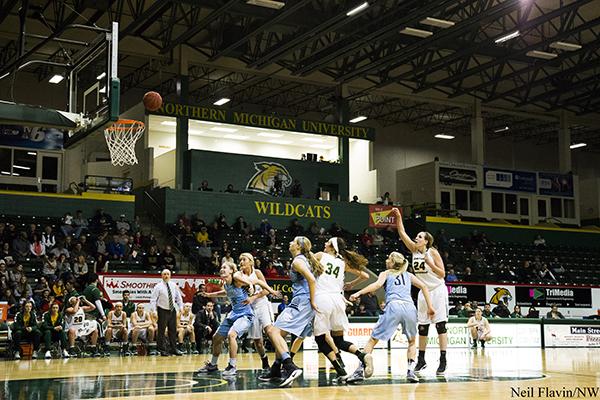 Wildcats wrapped up the 2016-17 season with a 17-12 (12-9 GLIAC) record after falling 62-45 to the north-leading Saginaw Valley Cardinals in the GLIAC tournament quarterfinals on Tuesday.
Head coach Troy Mattson said that going into the game part of the team's strategy was to keep defensive pressure on two of SVSU's top players, Emily Wendling and Katelyn Carriere. Although the team was able to maintain steady defense on the two, other Cardinals were able to step up and compensate while the Wildcats struggled to complete their shots, Mattson said.
"We had a good year, 17 wins is nothing to shake your head about, but we had the opportunity to have a great year," Mattson said.
With five of their losses coming from games that were decided in the final plays of the contest, Mattson said that had the Wildcats won those games it would have made for a much better season but he looks forward to next year.
This year's squad consisted of almost entirely freshmen and sophomore athletes, the only outlier being senior guard Bre Gaspervich, the sole upperclassman on the team.
"We are not going to be coming in with a lot of freshmen next year, looking to play people who haven't been at this level," Mattson said. "We are returning our core group of people who have all got extensive playing experience this year."
Considering their young age and the number of returning players, Mattson said he was proud of how they performed and said he believed that next year's squad will have a stability that may be lost on other teams in the conference.
Sophomore guard Darby Youngstrom said this year's batch of freshmen adjusted well to being in situations that most young players are unfamiliar with. She also said that the returning players were able to use their experience from the previous year to help make the season run smoother and that the team overall is very close.
So close they manage to make long bus rides tolerable by chatting and playing games.
"Especially when the boys are on the bus, we do a lot of boys versus girls games. The bus rides are pretty entertaining and fun I guess. You have to pass the time when we travel so far."
One game the team plays is Heads-Up, an app-based game that is sort of like charades. The app displays a noun, such as animals, celebrities or movies, on the screen and one player holds it up to their forehead so they can't see. The remaining players try to describe the word without saying it so the one player can guess it.
"One road trip we played it, the girls almost swept. I think the boys only won one game and we played eight rounds or so," Youngstrom said.
Youngstrom also said that in a recent road trip, the boys team answered back and nearly won every game of Heads-Up on that bus ride.
"It's kind of a toss-up. I mean, I'm kind of biased in saying I think the girls are better [at Heads-Up]."