Budai: Hungary for greatness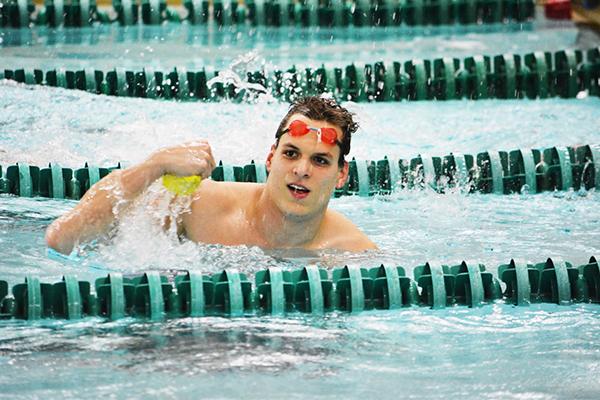 When you decide to leave your hometown for college, it can be a difficult transition at first. It can be hard to make friends, find your way or you could simply be homesick. On the other hand it can be the best experience ever, with going out, socializing, attending sporting events and getting involved on campus.
Whether you need help on an assignment or with life's everyday challenges, there's always a student or staff member right around the corner waiting to help out. College is like a second family for some; for freshman swimmer Lajos Budai, he considers NMU his first.
"I feel more connection here. Everything is here. Everything is almost better here," Budai said. "NMU is like a first family to me."
Budai came to NMU in the fall semester to study business and swim, of course. He hails from the small town of Kecskemét, Hungary which has a population of just over 100,000 and is just over an hour from the capital city of Budapest. There he was a member of the Hungarian national swim team.
Coming to the United States has always been a dream plan for Budai, who's been wanting to come to America since a friend told him all about it in elementary school.
"When I was in elementary school one of my friends came to the U.S. and he was good at sports here and studied here," Budai said. "He had a huge influence on me. In Hungary, you can't study and play sports at as high of a level as you can here."
How did the GLIAC Swimmer of the Year get into swimming anyway? He was kind of forced to.
"It's mandatory [in Kecskemét] for every little kid to learn to swim," Budai said. "My mom saw that I really enjoyed the water and wanted me to learn every stroke."
Budai never played any other sports as a kid. His father played basketball and tennis but the only swimming background from his immediate family is his younger brother who also swims.
A natural-born swimmer, NMU's swimming program appealed to him the most; that's how he ended up in Marquette.
"What they have here, the weekly routine, the monthly routine, it's something that's really good for me," he said.
Budai said Marquette isn't all that different from his hometown. While Kecskemét is bigger, he doesn't notice any major differences and likes a lot about the city here.
"I really like the community here," Budai said. "There's more stuff to do here. I like hiking, I like snow."
Budai is a swimming fan himself, noting that he would wake up early in the morning to watch the Olympics last summer.
"I woke up at 3 a.m. every day to watch the swimming finals," Budai said.
Budai noted some of his favorite swimmers as Vladimir Morozov and Michael Phelps.
"It's incredible what he did," he said, commenting on Phelps. "He's a beast."
While Budai has his favorite swimmers and idols, he doesn't have any particular role model.
"I don't really have an idol. I just have my basic view of how I want to look like in future," Budai said. "I want to be me."
When Budai came to the United States for the very first time in July, he admitted to experiencing culture shock. Aside from the food, lifestyle and people in general, he shared the story of when he first met his coach Heidi Voigt.
"When you meet someone new here, it's more common to give a hug or shake hands. In my country when you meet someone, you give kisses on the face. So the first time I tried to kiss my coach on the face and she tried to give me a hug it was really awkward," he said.
A typical day of training for Budai consists of 7 a.m. practices, going to class and another afternoon practice session. After the afternoon practice, Budai said he goes back to his dorm around 7 p.m. and does homework.
"My days are pretty tough," he said.
You can't be successful in any sport without good teammates. This season Budai has made many connections in the pool.
"I like practicing with Esteban [Gutierrez]. He always pushes me and I always push him to the limit," Budai said. "Everyone is good to practice with."
Budai also commented on being a freshman and earning accolades so quickly. After taking four events at the GLIAC Championships and breaking three school records, Budai was named both GLIAC Freshman of the Year and GLIAC Swimmer of the Year.
"Everyone on the team wants to catch me and beat me," Budai said.
"It's motivation for me. At first I was the guy who was hiding, and then I came from nothing. My goal is to keep improving every year." Budai, like most athletes, has his own superstitions on the day of a big event.
Those include swinging his arms and clapping his hands while on the starting platform and splashing his face with water.
Budai along with nine of his Wildcat teammates [7 swimming, 2 diving] have qualified for NCAA National Championships. He has qualified for the 50 freestyle, 100 freestyle, 200 freestyle and 100 backstroke events. Budai isn't letting the pressure get to him though.
"I'm not excited yet," Budai said. "I'm going to be excited and I will feel the pressure eventually but I try to cool this and just try to focus on what I have to do in the pool."
After college, Budai would like to join a business firm.
He said that you can't make a life out of swimming so he's unsure if he will stick with it, however he does have one goal within the next few years.
"Tokyo," Budai said.
Budai said there is a small chance he can make the Hungarian Olympic team for the Tokyo 2020 Olympics, and he's training for it.
"I'll have to work really hard for it," Budai said. "I wouldn't be too sad if I didn't make it, but of course I want to make it. Right now though my main goal is to focus on nationals."