Cross country ski team hits East Coast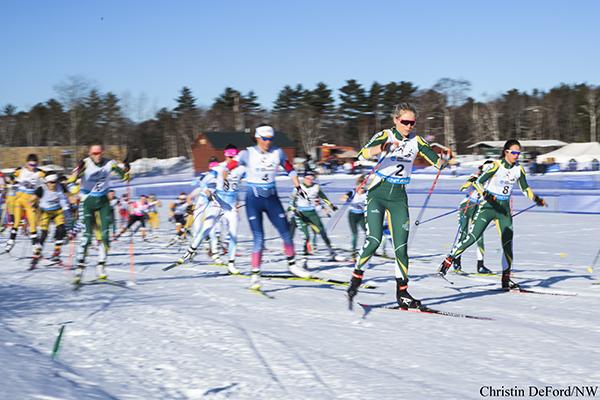 Over the spring break the Nordic Ski Team traveled down to Jackson, New Hampshire to compete against over 20 other schools in the 2017 NCAA Skiing Championships March 9-11.
Unlike other competitions in the season, The NCAA Championships combine the scores of both men's and women's teams as well as alpine and nordic scores.
As a combined team, the Wildcats finished eighth at the National Championships with a point total of 182. Northern Michigan had the highest score out of teams participating in a single discipline and fourth among all nordic teams. Northern even outscored schools competing in both nordic and alpine races.
On the first day of races, the Wildcats shot out on the right foot with three athletes, junior Vivian Hett and seniors Adam Martin and Fredrik Schwencke, earning All-American finishes.
Hett placed sixth out of 40 racers in the Women's 5K Classic with the time of 15:34.5. Schwencke and Martin placed sixth (26:40.2) and seventh (26:50.5) respectively in the Men's 10K classic.
On the second day, Martin placed sixth in the Men's 20K freestyle, completing the course in 46:21.5, his second All-American finish of the weekend.
Head coach Sten Fjeldheim said he thought the women's team had made great improvements from last year and commended them for a solid performance at this year's competition. Fjeldheim said Martin was the "star" on the men's side because of his back-to-back All-American finishes despite an icy course which featured many hills.
"This year [the track] was rock hard. It was really icy and fast, I mean it was scary fast, athletes were getting up to 40-some miles per hour downhill," Fjeldheim said. "We had a couple of athletes who had some crazy falls, broken poles but they persevered."
One of the Wildcats who took a tumble was Hett, who fell twice during the weekend. Hett said it was unfortunate but she noted that there were plenty of other athletes tipping over during events.
"Almost all of the field went down at least once," Hett said. "It was very technical, there were a lot of technical downhills throughout the entire course."
Although the conditions were not ideal, proper weather and track consistency are never guaranteed and the amount of variables the athletes must overcome is simply a natural aspect of skiing, Martin said.
"You can't ski quite the same when it's that icy," Martin said. "I think you have to race a little harder because it's quite a bit faster so you have to be more deliberate, maybe a little more precise with your technique."
To combat unideal conditions, the athletes and coaches also alter their equipment so it is most conducive to the track's texture.
Fjeldheim and assistant coach Shane MacDowell arrive to the track hours before a race just to experiment with different skis and waxes to find the best combination depending on the weather, course profile and alter the athletes' skis accordingly prior to racing.
Fjeldheim said he usually takes a fleet of 12 test-skis and has even developed a sort of database of different combinations corresponding with certain conditions.
"I've been doing this for a long time so I've kind of got a handle on it but it's still
challenging," Fjeldheim said. "We spend hours and hours on testing skis and testing wax. We don't just show up and pull out our skis and go."
Northern Michigan next races at the U.S. Long Distance National Championships on March 27-April 2 in Fairbanks, Alaska.