Low student use puts shuttle at risk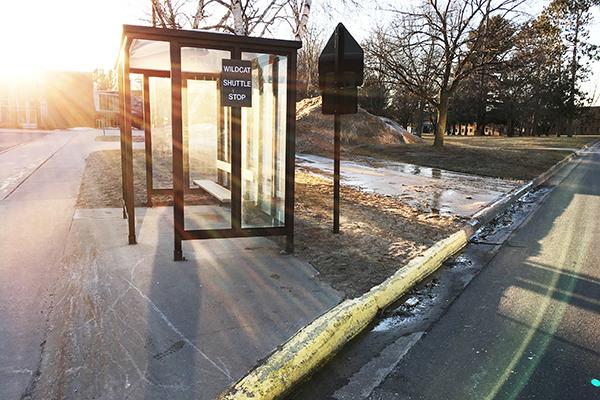 Due to the decreasing numbers of students riding the Wildcat Shuttle, Public Safety, in conjunction with ASNMU, is facing the possibility that the shuttle system could be discontinued after this semester when the contract with the current provider ends.
The Wildcat Shuttle cost about $75,000 for the 2016-2017 academic year, Director of NMU Public Safety and Police Services Michael Bath said. With only about two students using the shuttle per ride on weekdays in the 2016 fall semester, the cost per ride was about $7.25.  This is slightly over a $3 increase from fall of 2015, meaning a round-trip to the Dome costs $14.50, though that average will most likely go down after factoring in the winter semester, he said.
"It would be nice to see an increase [in shuttle riders], but this isn't a really good use of those dollars right now," Bath said.
Many factors could have contributed to fewer students riding the bus, including declining enrollment, warmer semesters, increased bike use and lower gas prices, he said.
"This year was a big drop. This one, to me, was very significant and I've got all the years. I've never seen a drop like that since we've been doing this," Bath said.
Public Safety has been working with Assistant Dean of Students and Coordinator of Disability Services Carolyn Lawrence to find accommodations for students with disabilities in the possible event that the shuttle no longer is available.
Less than five students with disabilities are currently relying on the shuttle system, Lawrence said. In the case of this system being ended, a door-to-door service could be an option to provide transportation to students with disabilities.
"This is still providing the same type of transportation but more specifically to the person's needs. This would actually serve my students better than what we have now," she said.
Lawrence added that providing transportation to students with disabilities is not mandated by the American's with Disabilities Act. This means the university is under no obligation to provide transportation to disabled students though they intend to continue some form of transportation service.
"I think it's very student-friendly that we've provided a service that we're not obligated to provide," Lawrence said. "We're a small campus—we don't have to provide transportation, it's not like we're a big, big school. So I think that it's just Northern trying to do a good job for their students."
ASNMU worked with Public Safety to continue the shuttle system after it started in 2004 when construction taking place on the West Science building put many classes in the Jacobetti Center, the farthest classroom-based building from the academic mall.
Public Safety provides the funding for the Wildcat Shuttle while ASNMU is supposed to help advertise to current and incoming students, Co-PR Director for ASNMU Maggie Hartman said. ASNMU is hoping to increase the number of shuttle riders by the end of the semester when the contract ends.
"We're trying to get more people to recognize that it's out there because I think it's important for students who are disabled, for people in the harsh winters, and also international students," Hartman said. ASNMU is looking to continue the promotion of the Wildcat Shuttle through the semester and duration of it's lifespan. There is a schedule for each shuttle stop online on the NMU Public Safety and Police Services tab of the NMU website.
"I just think there's a need for it but maybe not in the way that it's being run now. It isn't really user-friendly right now," Hartman said.
Students with questions or concerns about the Wildcat Shuttle can contact Michael Bath at Public Safety or reach out to the ASNMU office.