Editorial: Students and alumni provide career motivation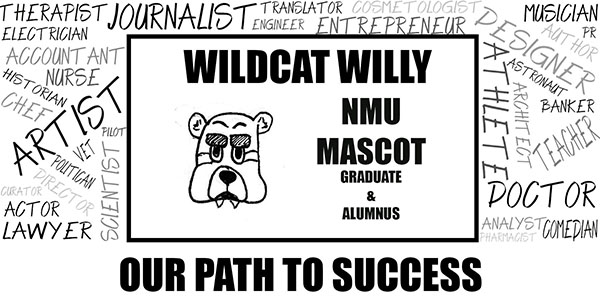 As each student walks out of the bookstore with packages containing their cap and gown and something with "alumni" printed on it, the impending fear of making it in the "real world" gets a little bit stronger. The safety net of being in college is soon to be yanked away, leaving us with a sour taste of paying student loans and searching for jobs that may or may not have to do with our degree.
We're launched into the job search competing with graduates from bigger-name schools, such as University of Michigan. How can Wildcats be seen in the shadows of bigger schools?
A name-drop doesn't always equal success, and a bigger university doesn't always mean it was better. Sometimes it can just mean bigger bills to pay.
NMU offers unique opportunities for students. With smaller class sizes all students get the chance to form relationships with their professors. Opportunities such as internships, contests and playing sports are considerably less competitive than they would be elsewhere.
Here we are offered experience in our chosen field before heading out into it professionally—and this diversity is exactly what future employers are looking for.
Current students and NMU alumni are shining examples to us. For instance, the recent success of hockey player Dominik Shine and his signing with the Grand Rapids Griffins gives all of our sports teams a beacon to aim for in the professional world.
The alumni out of the Art and Design program find careers nationally and locally in storefronts in Marquette, providing all art majors obtainable goals for the future.
All these accomplishments motivate us to be the best students we can be; to make the most out of our time here. Whether done academically or through athletics, a strong work ethic is required to excel in college and is the first thing to contribute to success. Despite being smaller than big-name schools, NMU can provide an ideal training ground for those willing to work hard.
And once the safety net of college is yanked away, caps and gowns hung in the closet, we can immediately follow in the paths of our successful peers.