Mod Sun makes a movie with latest lyrics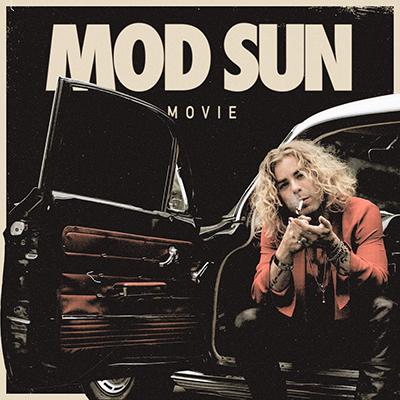 With spring in the air and the sun peeking out a little more every week, the changing in seasons gives a refreshing feeling. "Movie" is rock rapper Mod Sun's latest album, offering a fun, adventurous sound celebrating the positivity in life and focusing on having a good time.
Mod Sun's personality is the biggest influence that shines through his work. The tracks are a medley that is  playful and soft. The album blurs the line between a positive pop music vibe and a partying hippie who carries himself with a careless attitude.
From the party-inspired songs "We Do This S**t" and "She Just Wanna Dance" you can hear Mod Sun's smile through the headphones. His enjoyment of life shines through as he turns up. Gloating about showing up drunk to his flights, his rock star lifestyle sounds the same amount of exhausting as it does exhilarating.
"You Are" has a beautiful, soft tone to it. It really plays well in the morning while driving to an early class or shift as the sun begins to rise. Mod Sun raps about a girl in his life that he has an off-and-on relationship with. He sings about how this girl is the only one he wants to be with, but who also is the only person driving him crazy.
His flow works well with the simple beat that has a great upbeat rhythm to it, regardless of the troubles the two are going through. It also has a nicely-placed feature from Mansionz.
The lyrics of this album play well with the beats that all have a smooth sound to them. "Beautiful Problem" is another struggle with love and contrasts from the stress of a relationship.
Mod Sun paints a beautiful picture and his storytelling ability as a lyricist is evident. While being more introspective and without a happily ever after ending, Mod Sun seems to appreciate the journey and the song carries a feeling of relief.
"Two" and "WWYGADT" have a more aggressive tone. The beats on these tracks are more trap-like and less soft as the rest of the album. These cuts still work well with the whole project. They add an edginess that is needed in the album to even out some of the more radio-friendly pop music tracks. They sound great over a loud sound system to let the bass get a little exercise.
The album's highlight comes on "Smoking What I'm Smoking On," a fast-paced song about, surprisingly enough, smoking. With a beat that has a great loud funk to it and bass that rattles the rearview mirrors and shakes the trunk, this is a great song to play at a red light if you want to get a couple dirty looks from pedestrians.
The last three tracks are more introspective. Mod Sun looks at the future and what is next in his life and the relationships around him.
However, they have more poppy hooks that start to
become bland.
"Movies" is an album that would play along perfectly to a whole spring day—from waking up and watching the sunrise to cruising around while it's warm and sunny enjoying life, seeing the wonderful things in it and watching the sunset at the end of a day. While the choruses can get stale and sometimes too pop-like, Mod Sun's verses between the hooks are where the album catches its stride.
His lyrics paint a vivid picture.