NMU swimming earns seven All-American finishes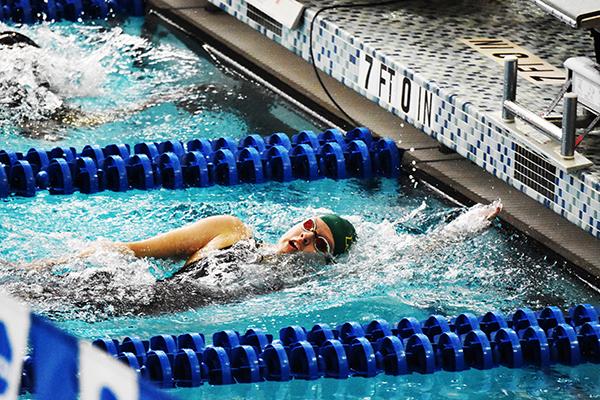 The Northern Michigan Swimming and Diving team wrapped up the season with four athletes earning seven all-American accolades at the 2017 NCAA Championships in Birmingham, Alabama.
Freshman Rachel Helm earned a national title in the 100 backstroke, the first Wildcat to do so since 1999.
"She's really talented and has great lines and she's a fierce competitor," head coach Heidi Voigt said reflecting on her time with Helm. "Some people just want to win and she is one of those people."
Helm not only took first place in the 100 backstroke but also claimed a second All-American finish in the 200 backstroke where she took third clocking in at 1:57.05.
Helm said that she was unhappy with her performance during the first days of the competition so she wasn't expecting to finish first in the 100 backstroke and didn't even realize she had won till moments after the race.
"It was an amazing feeling knowing I had won and looking into the crowd to see so many NMU swimmers made it even more special," Helm said. "I didn't actually realize I had won because the results took forever to come up and from the angle I was at I thought I had came last."
Along with Helm, freshman Lajos Budai also earned multiple All-American finishes: 50 freestyle (7th, 19.95), the 100 backstroke (4th, 47.14) and the 100 freestyle (3rd, 43.33). Along with his NCAA achievements, the freshman from Hungary was named GLIAC Freshman of the Year along with GLIAC Male Athlete of the Year.
"It was a big honor because usually they don't give both honors to a freshman," Budai said. "They usually just give Freshman of the Year to a freshman but I got both. I was kind of surprised and I was pretty grateful but it was good motivation before nationals."
Voight also described Budai as a true competitor and noted that, like Helm, he does not like to lose.
"He's great to work with," Voight said. "When he comes in to practice, it may take a while for him to tie his suit and get going but he gives you 100 percent when you tell him to go fast. Everything he has he just puts it out all on the line."
Sophomore Renars Bundzis and sophomore Angela Probstfeld took home their first All-American awards. Probstfeld claimed third in the 3-meter dive (476.75) while Bundzis finished seventh in the 200 backstroke (1:46.38).
"The performances by the athletes were great. They really persevered. I think when you're thinking about national championships it takes so much to actually get qualified to go so we rest and get them all prepped for their conference championships to go as fast as they can go," Voight said. "It's a little bit different in the fact that they're really kind of operating on fumes almost, going into those national championships."
Not only were the swimmers being cheered on by their own teammates, but the track team, who was also in Birmingham for the NCAA Indoor Track & Field Championships, showed up to the swim team's events and cheered on their fellow Wildcats and vice versa.
"I really liked having the track team, although I didn't get to watch any events because I was swimming, it was nice to know they were there and it was more than just the swim team," Helm said. "It made it feel like more of a university representation than just the swim team."