Rokerthon at NMU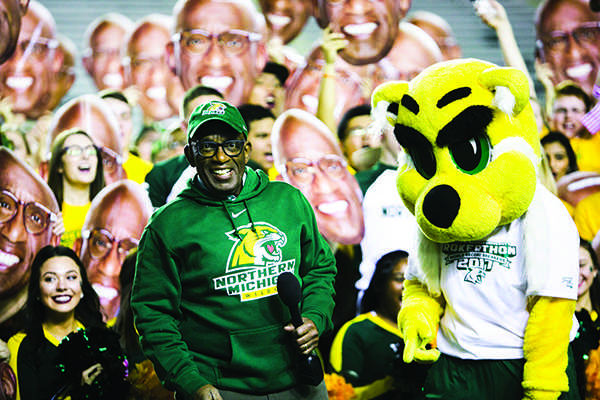 Hundreds of Wildcats robed in green and gold covered the field of the Superior Dome before the sun even rose Tuesday morning to participate in breaking the world record for the largest game of freeze tag.
The crowd of 'Cats was joined by NBC Today Show weatherman Al Roker as he made his second stop for "Rokerthon 3." For the past two years Roker himself was the one breaking records, but for this year's Rokerthon the television personality is making his way to five college campuses across the country as they try to get their name into the Guinness Book of World Records.
Roker flew into "our neck of the woods" around noon on Monday and was greeted by the NMU pep band, cheerleaders and some local fans. Sporting a Stormy Kromer and outfitted in green and gold he toured the campus, making stops in the Art & Design building, the music department and the WNMU broadcast studio.
NMU was chosen as a destination for "Rokerthon 3" after being selected amongst many other universities in a video contest showing school spirit. Roker said the campus and spirit reminded him of his own university experience.
"I went to a school kind of like this—SUNY Oswego in upstate New York right on Lake Ontario and it's the same kind of feel," Roker said. "It's a small school, but it's got a big feel. There's a lot of enthusiasm. There's a lot of school spirit, so that's pretty exciting."
Roker entered the dome just as a Northerner would; through smoke and out of the mouth of the inflatable Wildcat, joining the field with the student freeze tag participants. He let viewers of the Today Show know he had made his way to the 906 and of course provided the morning weather forecast.
NMU students broke into color-coded teams of 50 and three were designated "It" teams for the game. The clock struck 8:08 a.m. and the score board began to count down the 15 minutes required of playtime; so began the "pandemonium in the Superior Dome," as Roker described it.
Double Trouble DJs provided music and students commenced the world's now largest game of freeze tag with 634 participants beating the previous record set by Thomas School' in London in 2015 of 438 participants.
The Guinness World Record official announced NMU had broken the record and Roker awarded a $5000 scholarship from Pure-Point Financial to senior Sports Science major Megan Crane.
NMU President Fritz Erickson decided to match the scholarship after two were given out at Roker's first Rokerthon stop at Oklahoma University and awarded a $5000 scholarship to junior biology major Valerie Urban.
"We didn't want Oklahoma to get away with two scholarships," Erickson said. "We didn't want to be one-upped by our friends down there. It was a special thing to do, and we really wanted to thank the students for being here. They did a great job."
Free egg and cheese sandwiches, muffins, doughnut holes and coffee were provided to energize the drowsy students. This food along with t-shirts, banners and other promotional materials was provided by the marketing department, which spent around $9,000 of its budget, said Derek Hall, assistant vice president of marketing and communications. NMU plans to use the photos and videos from this event in marketing promotions for years to come, Hall said.
"It's well worth it. [Roker's] a big personality. You can't buy that kind of publicity. And it just goes to show that big things can happen even in a small place like Marquette," he said.
NMU did not pay Al Roker directly for the visit to campus, Hall said.
NMU student intern with the Today Show and senior criminal justice major Jared Jacques helped create the promotional video that got Northern its spot on Rokerthon and worked with NBC producers and public relations team to prepare for Roker's arrival. Having an event such as this on national television is an amazing opportunity for students to be a part of and for NMU, he said.
"I think we deserve a lot of recognition that we don't get. We're one of the best-kept secrets of the Upper Peninsula up here for sure," Jacques said.