The ooky, kooky cast of the FRT brings a classic to NMU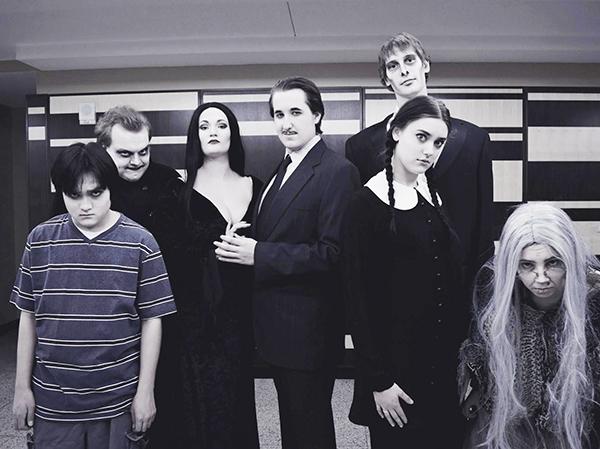 "They're creepy and they're kooky, mysterious and spooky, they're altogether ooky," and if you remember them from the T.V. series and movies, you can now see them singing and dancing live onstage at NMU.
"The Addams Family" musical is coming to the Forest Roberts Theatre (FRT) with showings Wednesday, April 5 through Sunday, April 9.
The play, which has been in the making by Director Shelley Russell for a year, was cast last September, with rehearsals beginning in January.
Jill Vermeulen, a senior studying communications and theater, has been involved in theater since she was a child and will be playing the part of Morticia Addams.
"It's fun being able to see characters you recognize come to life. Being able to play Morticia is enjoyable because I get to take on a powerful female role. I get to show her archetype and still be able to give it my own twist," Vermeulen said.
The musical is based on the 1964 T.V. series and three movies which were created in 1991, 1993 and 1998. This rendition of the familiar family first hit Broadway in 2010 and takes place after Wednesday Addams has turned 18 and fallen in love with an average young man from Ohio. Neither of Wednesday's parents have met her boyfriend and when her father learns of the relationship, Wednesday begs him to keep it a secret from her mother.
Things start to heat up when Wednesday's "normal" boyfriend and his parents come over to the Addams' house for dinner.
Familiar faces such as Gomez, Morticia, Uncle Fester, Grandma, Pugsley and Lurch all make appearances, along with some newer characters—ancestors that range from a conquistador to a 1950s airline stewardess, who come back to make sure the family stays together.
"It's hilarious and the characters are so strange but so human. Gomez and Morticia have this amazing relationship, very sexy and yet it's based on honesty and absolute loyalty," Russell said.
"The humor is very contemporary, and yet oddly traditional. I laughed till I cried the first time I saw the show and then I looked at the actors and singers we have right now and thought, 'We can do this show.'" Russell stated that not only is a classic family coming to life, but they do so in a great contemporary musical.
"There is a huge amount of dance in the show, including one killer tango, of course with Gomez and Morticia," Russell added. "But the main reason to come has to be the cast. They're kind of amazing.  I feel like for this show, I really had actors who just are these characters. You'll see."
There will be performances at 7:30 p.m. Wednesday through Saturday, along with matinee showings at 1 p.m. on Saturday and Sunday. Tickets are $15 for the general public, $10 for students and $5 for NMU students.