Lacrosse losing streak snapped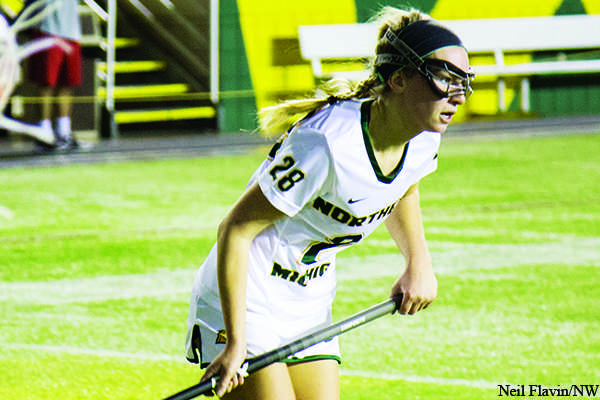 The Northern Michigan Women's Lacrosse Team snapped a 5-game losing streak with 22-10 victory over the Notre Dame Ohio Falcons in their second-to-last match before conference play.
Head coach Emelia Ward said that the win boosted the team's confidence which is especially good due to the start of conference getting closer and overall will help the inaugural squad's confidence.
"With a young program you're always going to kind of go through bumps in the road. For us as a coaching staff we kind of knew that this is going to be how the season went," Ward said. "For players it can be very frustrating especially for players who have had success coming out of high school or someone like Shelby who had a lot of success individually at her former program."
Sophomore attacker Shelby Klotz kicked off scoring for NMU and netted one within the first minute of play in the first half. Klotz would go on to score five more in the first frame and close out the second with three more, chalking up nine total. Klotz's nine-goal effort is the most posted by a Wildcat in a single during their inaugural season.
"We all realized that it's time to get back into it, we needed to get our heads back into it and this game really helped a lot," Klotz said. "We all had a positive attitude and we ended up working probably the best we have so far and getting the win."
By the 14:29 mark of the first half, the Wildcats hammered out an 11-2 advantage over the Falcons and closed out the half still nine points over their opponent 14-5.
Northern Michigan took four of the second half's first five goals even furthering themselves from the Falcons 18-6. Klotz capped off all scoring for the match when she found the back of the net twice in the final six minutes. The game ended 22-10. Senior attacker Blair Osgood (4g-1a), senior midfielder Savannah Stich (4g) and freshman attacker Jordan Hanner (2g) also had multi-point outings while junior goalkeeper Brianna Bangle made four saves.
The team now prepares for their rematch against the Concordia St. Paul Golden Bears this Friday and their first conference game against the Mckendree University Bearcats Sunday, both games on the road.
The last time Northern squared off against Concordia, The Golden Bears toppled the Wildcats 14-8 at the Superior Dome.
"It'll be great to get a rematch against them, they're another first-year program so it's always nice to see where you match up," said Ward. "The game here at home, we had a couple kids kind of banged up so we didn't play them at 100 percent. We are going in much healthier this game so I think [Notre Dame] are going to see a different team on Friday."
Based on their recent performances in games and in practices, Klotz said that she feels the team is ready to move forward in the season and to kick off conference play on the right foot.
"It seems that everybody's frustration and everything was gone. We were all working together. We had good attitudes, we're ready and we're excited for conference play," Klotz said.