Fair educates NMU campus on gender identity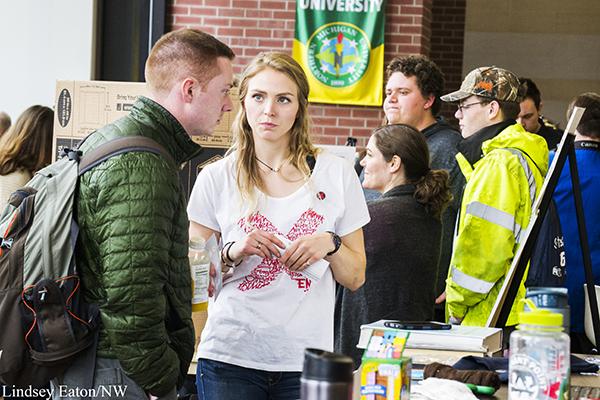 Approximately 70 people milled about the Jamrich first floor lobby yesterday, making the Starbucks look downright barren by comparison. The Gender Fair, just 20 minutes into its run time had already attracted a crowd drawn in by prizes and candy to be educated on gender issues.
Jump Start Team Leader and sophomore communications major Madeline Wiles said the main purpose of the Gender Fair was to bring education on the topics of gender identity and the gender spectrum to NMU.
"We're working with diverse people to promote the topic of gender identity to reduce the stigma of having a non-conforming gender identity," Wiles said.
The Gender Fair took place on Wednesday from 2 to 4:30 p.m. and was sponsored by the Multicultural Resource and Education Center (MERC).
According to the Human Rights Campaign, gender identity is "One's innermost concept of self as male, female, a blend of both or neither—how individuals perceive themselves and what they call themselves."
Having seen a Gender Fair poster a couple days prior, senior photography major Ezra Asohan expressed his opinion on the movement, adding that he hadn't taken any classes on the topic of gender, but had friends who did.
"Oh yeah. I support this," Asohan said. "I came to learn what they do in this study."
Freshman earth science major Loki Domina attended in the few minutes she had before class and gave her opinion after viewing a couple of displays and chatting with the presenters.
"Do your thing," she said in regards to persons with non-conforming gender identity. "My idea of gender—I don't take into account society."
Social awareness and understanding of gender identity is better now than 10 years ago, Wiles said. In regards to people who disagree with the notion of non-conforming gender identity, however, she said, "Imagine if you're right-handed but you are told to write with your left hand even though you know you work better with your dominant hand. That's what it's like to be told your gender identity is wrong."
Among the groups attending the event were the Black Student Union who presented a station on black androgyny showing support for people, especially in black communities, to be able to dress as they like regardless of societal norms and not be judged for it.
At the front of the presentations greeting passersby and inviting them to join the fair sat sophomore public relations major Sarah Schollmeyer, who expressed that she came not knowing about black androgyny. The Gender Fair is important Schollmeyer said. "Gender is everywhere. Gender is fluid."
Rebecca Ulland, director of the Gender and Sexuality Studies Program, had her GN100 Introduction to Gender Studies class create posters that were displayed during the event.  Among the presentations were topics on representation of gender in fiction, advice for non-traditional individuals and couples and fairness in the workplace.
"Being a part of the Gender Fair is important for the Introduction to Gender and Sexuality Studies students because this assignment connects what we have studied about the social construction of gender with praxis, which is defined as activism is informed by theory, research and evidence," Ulland said.