Track & Field grabs season's first win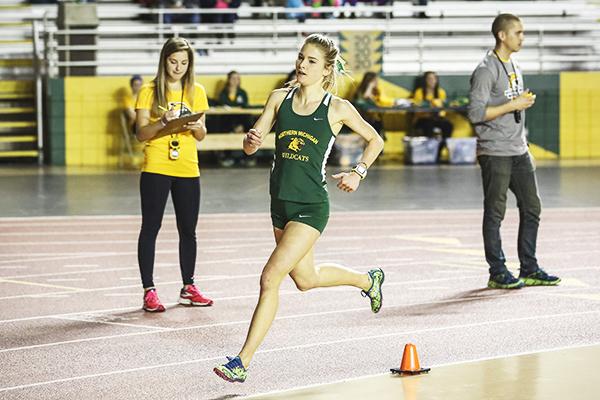 The Northern Michigan Track & Field team scored its first victory of the season at the Viking Olympics on the campus of Augustana College in Rock Island, Illinois last weekend.
In a meet with eight Division 3 schools out of 11 teams competing, the Wildcats prevailed dominant finishing with an overall team score of 169 points. Division 3 Wheaton College finished in the runner-up position with 155 points overall. Wisconsin-Whitewater completed the team podium finish with 100 points.
The Wildcats had a number of first place finishes, most notably the 4×800 meter relay. The team of junior Kieren Becker, sophomores Shayla Huebner and Hannah Lonergan and junior Kelly Pietrzak paced the field with a time of 9:39.93. Wisconsin-Whitewater was the next team across the line clocking in at 10:17.60.
Despite the first place finish in the relay along with another first place finish in the 400-meter run, Huebner is always looking to be better. 
"I don't think my race strategy was the greatest," Huebner said. "I'm just going to learn from it and hopefully improve for the meets coming up. I think we're off to a good start and I'm excited to see how we progress."
Senior Samanthia Johnson was one of two Wildcats to take home two individual first place finishes winning the discus throw with a throw of 154 feet, 11 inches and the hammer throw with a throw of 165 feet, 10 inches. Senior teammate Jasmine Williams ended up taking second place in both events while sophomore Dana Shove came home fourth in the discus.
Johnson was satisfied with her performance but admitted to being disappointed that she didn't set a personal record in the discus, however she sees that as motivation going forward.
"It will definitely give me a boost of confidence going forward in the season," Johnson said. "I have a better idea going into this week of training and competition of what I need to work on."
Other Wildcat first place finishes included senior Avadon James who took both the 100 and 200-meter runs, Becker in the 1,500-meter run, sophomore Michelle Juergen in the high jump and freshman Katelyn Smith in the 5,000-meter run. Overall the Wildcats had nine first place finishes and 18 top five finishes all together.
Head coach Jenny Ryan said this was the first outdoor meet of the season where the entire team made the trip and she was happy with her team's results.
"For being early in the season, all the athletes had some great performances," Ryan said. "Every race they're in they learn something and take that forward to see what they can do at the next meet." Ryan added that by participating in a smaller meet they weren't going in and trying to get the points to win.
"We went in with the idea that everybody was getting a chance to compete to see where they were at and what they could do," Ryan said. "It's always great to get a win because it gives them the confidence going into bigger competition."
Up next for the Wildcats is the Bulldog Invitational at Top Taggart Field on the campus of Ferris State University in Big Rapids, Michigan April 8. 
Johnson said the early season success gives the team confidence that they can compete at a high level.
"I'm really proud of the direction our team is going," Johnson said. "We might be a small team, but at the end of the day we can compete very well and we're very talented."