Lacrosse team continues road trip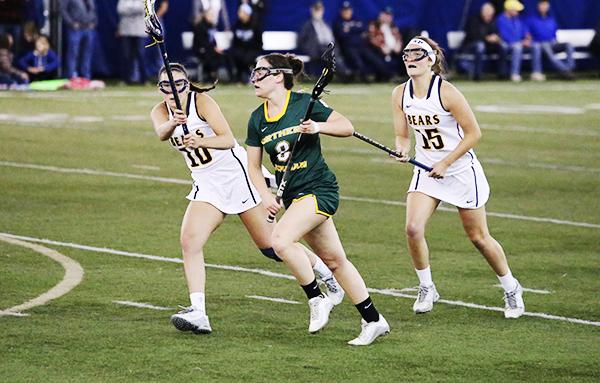 The month-long road schedule for the Northern Michigan University Women's Lacrosse Team continued as they visited University of Concordia-St.Paul and McKendree University in Illinois.
Looking to salvage momentum from their last win at Notre Dame University, the team fell to the Concordia-St. Paul Golden Bears, 21-6 and the McKendree University Bearcats 20-1.
On Friday's game in St. Paul, the Wildcats gave up 9 early goals to the Golden Bears in the first half. They trailed 14-3 entering halftime. Freshman Graison Ringlever notched two goals for the Wildcats to close the half out.
In the second half the program's leading goal-scorer, sophomore Shelby Klotz, tallied up two goals to bring the Wildcats to 15-5. However the Golden Bears would pull away with scoring six more to make the final score of 21-6.
Ringlever scored a hat trick and an assist to lead the Wildcats in scoring while junior goaltender Brianna Bangle had 21 saves.
At Sunday's game, NMU took on the Bearcats for the Wildcats' first-ever conference game. McKendree poured on 16 straight goals in 20 minutes as the Wildcats were blitzed from the beginning.
As the game continued on Klotz scored NMU's lone goal with 10:17 left, with an assist from senior Blair Osgood. Bangle stopped 12 shots for the Wildcats.
The Bearcats' Paige Salthouse led all players with five goals with Victoria Lelo following with four.
Freshman Jordan Hanner said that the weekend was tough but they got some experience from it.
"We took Friday's game as a learning experience and we stepped up on Sunday's game, even though we lost with their [good] competition," Hanner said.
Head coach Emilia Ward said that in both games there were some positive moments to come away from.
"We actually did some great offensively, getting set and competing well," Ward said.
Ward also said that the team is shrugging off the bad losses and moving on.
"We're not focusing on the scores or goals at all," Ward said. "We'll just continue learning and get us through our first year."
Junior Abby Flaminio says the weekend gave the team a lesson on teamwork.
"I think what [we] need to improve on is communication, on and off the field. Just working on the little things," Flaminio said.
"For next weekend, I think we need to be improving as a team, just keep getting to know each other as a team."
As the conference season continues, Ward said the conference games will help understand what they are as a team.
"We're getting through our process and adjusting to conference play," Ward said. "We had some ladies that had experience with conference play, so it benefits us well."
Hanner said that the conference games are where the team can develop more overall.
"What I'm looking forward to is for us to get into more of a rhythm," Hanner said.
Flaminio said the conference season for them is focusing on their game ahead.
"I think overall, we just like to have a positive experience for us as a team," Flaminio said.
The Wildcats head back on the road as they take on Tiffin University on Friday and Findlay University on Sunday; both games are in Ohio.