Making strikes toward sustainability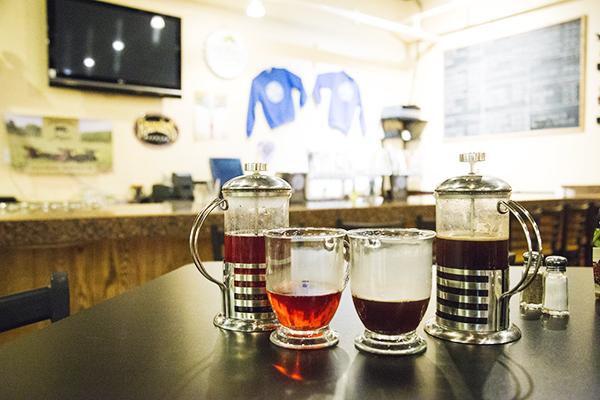 Bowl a strike, roll a gutterball, grab a drink and a bite to eat and don't feel bad about any of it at the Superior Entertainment Center where sustainable business practices are becoming more of a priority each day. The local business is sourcing food and draft beers locally and even growing some of their produce hydroponically in their kitchen.
Business practices such as these simply felt like the right thing to do for general manager of the Superior Entertainment Center Amy Manning who became interested in sustainability in college.
"It just felt like we have an opportunity as a small business and to some extent a responsibility, to look at how we think the right way of doing things is and then to implement that," Manning said.
The center sources all their burger buns, pizza dough and other baked goods from Marquette Baking Company, their milk from Debacker Family Dairy, 100 percent of their beef from Superior Angus, all dishes containing pork come from Seeds & Spores Family Farm and all coffee and tea products are fair trade.
The busy season for the center is during the dead of winter from December to March, which makes obtaining produce and supporting local farms difficult due to the growing season.
"That's one of the reasons we went with the local meat products because they are available all year round. The seasonality of it is definitely an issue," Manning said.
Though finding balance in the seasonality of their's and surrounding businesses has been challenging, it's worth providing an opportunity for customers to connect and feel passionate with Superior Entertainment
Center's practices, she said.
Manning said some customers truly appreciate what they're doing and for others sustainability isn't even on their radar.
"Sometimes customers can get really upset about stuff like that because in their mind, a burger shouldn't cost more than $7 and we should have $10 Bud Light on tap and if we don't, what're we doing we're a bowling alley."
But the higher prices reflect the higher quality of ingredients and their locally brewed beers.
In attempt to reduce their carbon footprint the center calculates the overall miles a keg must travel during distribution to reach them. Twenty-five percent of Superior Entertainment Center's draft beers travel less than 150 miles and 75 percent travel less than 500 miles before reaching their tap. There are some exceptions to their on-draft selection which they call "Beyond 500" beers.
These drafts travel more than 500 miles during distribution, but come from breweries who are also implementing social and environmental changes in their businesses.
The center has been moving toward more sustainable practices for the past six years and is still looking forward and exploring new ways to do so, including working with an architectural firm to discuss solar and wind power options as well as an addition onto the building that would include a rooftop garden.
The garden would allow them to move current grow operations outdoors, begin a rainwater collection system to water the garden and a cooking oil burner to heat the addition, Manning said.
"It just kind of snowballs. The more we do, the more our staff gets excited about it, the more we see customers coming forward and saying 'Hey I'm really into what you're doing. I really appreciate it,' and then that just spurs us to do even more to see that hey someone actually does care about this."