Bidding A-dieu: New housing unit to replace aging A-frames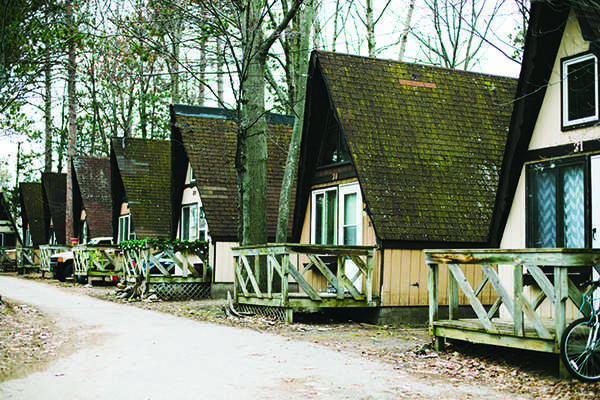 Construction of a new housing development set to take over the Sugarloaf Villas, a site that includes Marquette's iconic A-frame houses, will begin in early summer of this year.
Architect of the project Barry Polzin said if everything progresses as planned the five-building facility will be completed and ready to move into by the fall of 2018 with the capacity to house about 300 people. The new housing is specifically meant to provide needed off-campus options for students.
"The primary thing is the location. Also, we had a study done on off-campus student housing in Marquette and it's really pretty bad," Polzin said. "It's pretty horrible in general so there really is a strong market for new student housing and this site really lends itself perfectly because it's just across from campus."
The Marquette Planning Commission approved the project back in December, Polzin said. Before this approval, Polzin gauged the interest in the community for the housing plans.
"I met with the university quite a while ago before we kind of dove into this just to see how it fit with their plan," Polzin said.
"They encouraged us to go forward because they're doing on-campus housing and they thought it would be great to provide high quality off-campus housing as well because, as everyone in the university world is finding out, the quality of housing has a lot to do with where they choose to go to college."
Every bedroom will have a private bathroom and hardwired high-speed Internet, he said. There will also be several common areas including a lounge clubhouse with a fitness center, a game area and a study area with printing services. There will also be a 30-person outdoor hot tub and an indoor heated space to keep bicycles.
The bicycle storage area will provide students a place to store their bikes in the winter and feature a bike repair shop and fine-tuning shop.
"It brings the bar up for all of the student housing," Polzin said.
The current residents of the Sugarloaf Villas did not know about the replacement of their current homes until a local news station ran a story on it.
"That was I guess kind of a glitch between the developer and the existing owner," Polzin said.
Senior biology major and A-frame resident Kelly Shaughnessy said that they still don't know what's going on but should find out in May.
"Everyone's just pretty upset about the way it was handled," Shaughnessy said.
"I don't necessarily believe that it was our landlord's fault. I think it shouldn't have been released by who it was released by."
She added that she did not think that the new housing units with the amenities included sounded affordable to students.
"It would have been nice to stay but it's not the end of the world."