TKE hauls tub to raise money for Lake Superior Hospice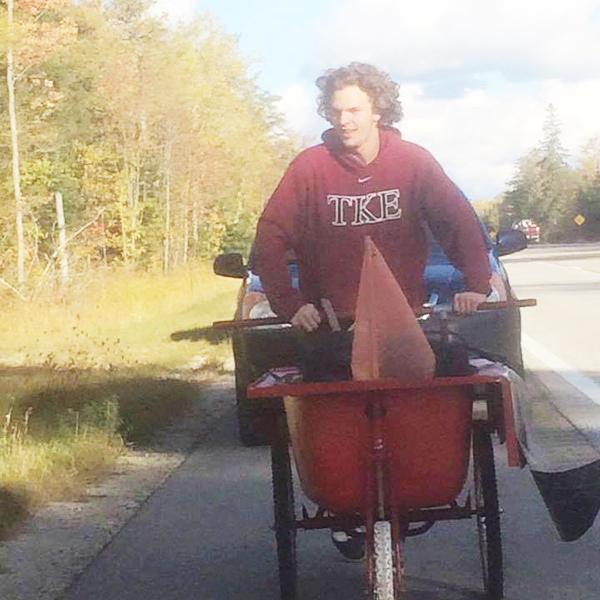 The brothers of the Theta Iota (Northern Michigan University) Chapter of Tau Kappa Epsilon will leave for Sault Ste. Marie on Thursday and wake up the next morning to push a bathtub on wheels all the way back to the TKE house in Marquette.
The Tub Push is a 164.8 mile trek and is part of a vow to raise a minimum of $2,000 for Lake Superior Hospice.
The annual Tub Push has been a long time tradition for Tau Kappa Epsilon fraternities across the country and is meant to promote unity within the brotherhood as well as give back to the community, Theta Iota Branch President Germaine Valentine said.
"One of the things I try to instill on the guys as president is that we don't do things for publicity," Valentine said. "One of our pillars is service—and that's one of the things that TKE is founded on—is service and we do things based off of what is needed."
In last year's push the boys managed to complete the run in 32 hours. This year, Valentine projects them to do it around 33 to 36 hours.
Members take shifts pushing the tub while the rest of the brothers follow in vehicles.
This year the fraternity has chosen to donate to Lake Superior Hospice, which is one of Michigan's oldest and Marquette's only non-profit hospice. Lake Superior Hospice not only provides medical care but also provides comfort and spiritual services for patients dealing with mortality, director of Community Relations and Program Development Ruth Almen said.
"I want to give [TKE] a lot of credit, they had clearly done their homework. It's important to us that people in the community understand that we are a non-profit hospice," Almen said. "For us to provide the kind of care to families we want to provide, we are really asking the for the community's support and relying on them. That's a very important point and they had figured that out."
The money donated by TKE will go towards helping patients who otherwise would have no way to afford care from Lake Superior Hospice, Almen said.
"We told them $2,000 and we've all made that commitment that we are going to do everything that we can to get $2,000," Valentine said. "Even if it took all of us ourselves to go to Biolife and to donate. We are doing whatever we can to make sure that [Lake Superior Hospice] has that."
For people who wish to donate, TKE's Gofundme page can be found at tinyurl.com/msvy45k. Those who would like to donate with check or cash should contact the group via phone at 906-869-5996 or via e-mail at [email protected]