Get your Thill at Thill's Fish Market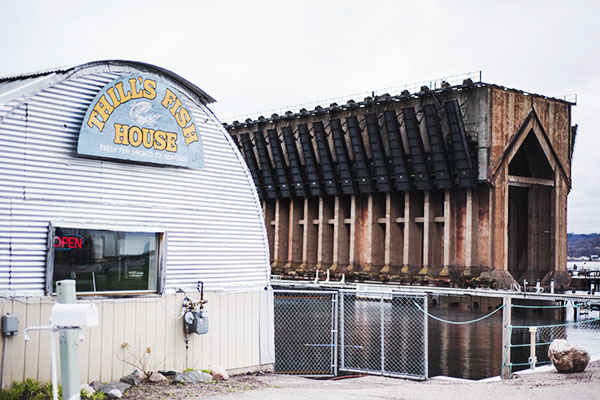 Whitefish cakes, dips, chowder and bites—a variation or recipe consisting of this fish can be found on just about every restaurant menu in town. Almost all of this fish is supplied by local fishery and market Thill's Fish House, that has been supplying your filets and Friday fry's since 1961.
Ted Thill began commercially fishing in other areas of Michigan before deciding to settle his store in the 906. He passed his trade onto his son who passed it onto his sons, and the Thills have been fishing here ever since. Brothers Adam and Dan Thill, the third generation of Thill men, now operate the fish house and have been doing so for over 25 years, said Dan Thill.
"It's something different every day. It is repetition, what we do. It's the same thing everything, every day, but it's a different scenario every day I guess you'd say," Thill said. "One day you've got a ton of fish sittin' on the floor and everybody's working to beat the band and the next day it's not quite that way."
The Thills crew averages a catch of 15 to 16,000 pounds of fish a day and freezes thousands more pounds for customers during the winter months. They go out fishing every day during the open season on their big blue boat that was built in 1946 and has held the same name ever since, the Linda Lee.
"The old timers say it's really superstitious to change the name when you buy a commercial vessel," Thill said.
The fish they bring back from their daily haul is 100 percent processed in the fish house for the returning local customers and the summer tourists, he added.
"I think it's more about quality. People like the quality you get out of a smaller business rather than a big chain. If we get a lot of requests for something we'll start carrying it just for people, especially regulars that come in a lot."
Thill's supplies whitefish to local restaurants Hudson's, Stucko's, The Landmark, The Vierling, Portside Inn, different hotels and even to businesses in the Negaunee and Gwinn area.
All their fish is caught using trap nets which is the use of nets sometimes as long as 1200 feet and floats to support the trap. The nets guide fish into a tapered tunnel and trap which they hopefully cannot find their way back out of Thill said.
"But my grandpa used to tell me 'you leave 'em out there too long they're gonna figure it out,' so it was always get out there as soon as you can."
Thill said the fishery is a cool thing that's always been a part of his family and tradition is a big part of keeping that alive.
"I've tried other things; I've gone into construction, I've gone into different trades, trying different things and always end up right back here, back on the water. Once you get in the water it's in your blood. You just want to be in the water all the time."