Hockey's newest Wildcat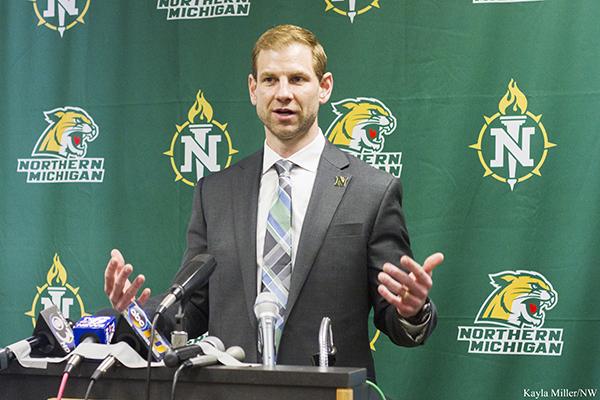 Consistency and culture were the focus of Tuesday's press conference announcing Grant Potulny as the new head coach of the NMU Hockey team.
After the dismissal of former head coach Walt Kyle, a search began that brought 69 applications to NMU.
The search committee, made up of alumni, players and board members, narrowed down the list to 15 candidates. The committee interviewed those candidates through video chat. Five finalists were brought to campus for face-to-face interviews, where Potulny was selected. Fritz Erickson, university president, said the five candidates made the decision difficult.
"We had an amazing pool of candidates," Erickson said. "It was really great to see our university community embrace and support people as they came and working through this particular process."
Potulny comes from the University of Minnesota where he spent the last five years as an assistant coach for the Golden Gophers.
According to an NMU press release, Potulny coached forwards, power-play units and was heavily involved in recruiting.
Forrest Karr, athletic director, said these are strong qualities in Potulny as a coach.
"Grant's ability to recruit and build relationships with players, this was the final thing for me. Watching him interact with Zach [Diamantoni] in the interview process and again today was truly enjoyable." Karr also commended Potulny for his organizational skills and attention to detail.
During his time as a player Potulny played for the Golden Gophers. He was the first player since 1947 to be named a captain three years in a row. He led the Gophers to two separate national titles.
The native of Grand Forks, North Dakota was a three-time state champion in high school. He played junior hockey with the Lincoln Stars, an elite hockey organization that many Wildcats have been a part of. Potulny said he was welcomed to Marquette with positivity by the community and the energy they put into NMU hockey.
"The one thing that stood out to me was the passion in the community about the hockey program," he said. "You could just feel it, you could feel the energy coming out of the people."
Potulny said his favorite part of coaching is the lives he's able to touch and influence.
"You get to take a young person who is coming into their own in the world and you get four years to mold them into becoming outstanding people in the community and get them ready for what's next in their lives," Potulny said. Karr said while making calls about Potulny, his integrity and character were consistent themes in the conversation.
He said Potulny is the kind of person every parent would want their son playing for.
"Grant is without question a leader and has been throughout his entire career," Karr said. "Another thing that stands out is Grant's attention to detail. He's organized and has a plan for our program. I've noticed the same quality in many of the great coaches I've worked with throughout the years."
Potulny talked about his plans for the team, including bringing his consistency into the program. He said that players will know what to expect from him every day and every practice.
"I know players want to be coached, players want details, players want consistency," he said. Potulny mentioned the "Wildcat Way," what he describes as doing everything the right way and a culture he promises to instill in players.
"I'm inheriting a program with a great culture," he said. "Now it's my turn to add my spin on it  and to bring in my ideas and to create my family." Recruitment is something Potulny said he will stress as head coach.
"We need to continue to bring in bright young people, great athletes to come into this program and help us succeed in the future. Better people make better Wildcats."