Track & Field captures another victory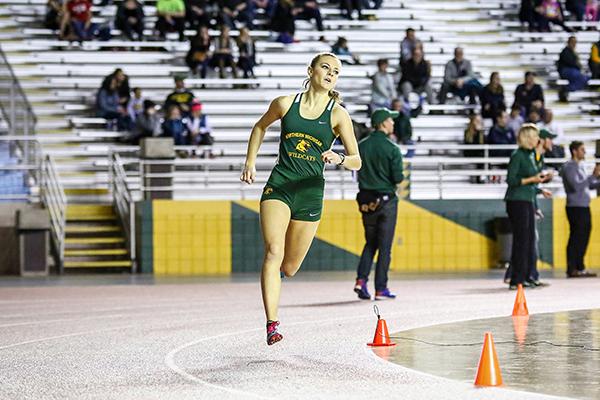 Over Easter weekend the Northern Michigan University Women's Track and Field team cruised on to their second victory of the outdoor season at the St. Norbert College Twilight meet in De Pere, Wisconsin.  They also gained a new school record from one of the athletes at the Mt. SAC Relays in Torrance, California.
At the Mt. SAC Relays, junior distance runner Kameron Burmeister set a new school record in the 10,000-meter run at 36:15.71, shattering her own record by 55 seconds to finish in ninth place in the "B" division. Her old record, 37:10.44, was part of a third place run back at the 2016 GLIAC Championships.
Even though Burmeister was the only NMU athlete to attend this event, head coach Jenny Ryan was proud of her record-setting achievement.
"That was definitely exciting," Ryan said. "She's been running a lot of races with a lot of strong competition, so it can help pull her to that record."
Sophomore sprinter Jenna Long speculated that Burmeister would've clinched the record at any meet.
"I wasn't very surprised, because she is a hard worker," Long said. "She's always improving and she is fun to watch."
In the St. Norbert College Twilight meet, the Wildcats clinched 12 of 20 events en route to their second victory in the outdoor season. Senior Avadon James in the 800-meter run (2:12.37) and junior Ine Mylle in the triple jump (38' 8.25") and 100-meter hurdles (14.9) placed first in their respective events. Both Junior Kieren Becker (distance) and sophomore Michelle Juergen (multi-event) also placed in the NCAA provisionals.
Ryan said that everyone as a whole competed well with some outstanding results.
"The team competed really well there, we had some really good performances," Ryan said. "The entire team also competed really well."
Ryan also believed the team is faring with better opponents.
"We're doing really well, I'm happy with how we're competing," Ryan said. "Once we taper down and give them more rest, the performances will be even better."
Mylle had a good meet, but she said she knows she can be improving in her events.
"I wasn't particularly happy, not distance-wise, but how I finished in the results," Mylle said. "I was really negative, but I got two new PRs in the 100-meter hurdles and 400-meter hurdles, so it made my day a little bit better."
"As for triple jump being my main event, I still hope to perform better next week," Mylle added.
Including the first place finishes in the meet, NMU also placed 10 runner-up finishes along with five third-place finishes, totaling 574 points. The Wildcats tallied 71 points more than the second place team, the host university St. Norbert University.
As NMU looks forward to the their next meets at the Al Owens Classic and at the GLIAC Outdoor Championships, the team knows they have to prepare for the bigger meets ahead. Long said by resting while preparing for the next meet, the team will be ready for all the events they're competing in.
"I guess we're going to try to recover as best we can, so our bodies will be in prime condition," Long said.
NMU races back on the road to compete at the Al Owens Classic April 21-22 in Grand Rapids.
"It should be another good meet, the nice thing is that there will be definitely be more higher-level competition," Ryan said.